National Championships herald start of track season for Ed Clancy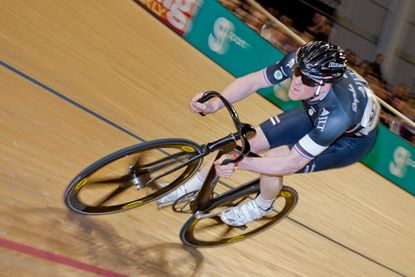 Ed Clancy says his track season begins in earnest this week as he competes in the British National Championships in Manchester.
Clancy will be in action in four events across three days - starting with the individual pursuit tomorrow - as he builds towards October's European Championships and the Manchester World Cup Round in November.
The double Olympic champion last won a medal in the championships in 2009, although he is expecting to have more fun over success during them.
"I've been on the track for a couple of days each week for the last month or so, and done a few rides on the road on top to compliment that," he told Cycling Weekly.
"So in the grand scheme of things, that isn't a lot, but then again, nobody [on the Great Britain team] really has done too much.
"It's enough to start me off at the Nationals and although I don't think I'll be setting the world on fire, once I'm there I'll get into the spirit of it and race hard.
"Doing four events will keep things ticking over; you can either train around the nationals, or get stuck in and have a bit of fun doing them, and then build on that going into the Euros and Track World Cup."
Clancy has spent the last few weeks moving into a house near his hometown of Huddersfield, and despite the usual hassles of paperwork and unpacking that come with it, he said his training has not suffered.
"I'm about an hour-and-a-quarter away from the track [the Manchester Velodrome] now, so I tend to ride there, do the track session for three hours, then ride back home," Clancy said.
"It avoids using the car that way, although there's a bit of a climb through Mossley, which can be fun when you've got your track legs on!"
One thing the 28-year-old does not have to deal with this winter is that of finding a team for 2014, as he will ride for Rapha-Condor-JLT for the fourth year running.
"All being well I'll stay until Rio. I'm happy where I am, I like riding for the team and the crits compliment the track work, so I have no intention to move," said Clancy.
Thank you for reading 20 articles this month* Join now for unlimited access
Enjoy your first month for just £1 / $1 / €1
*Read 5 free articles per month without a subscription
Join now for unlimited access
Try first month for just £1 / $1 / €1