Opinion: It's time to stop overreacting to everything Jeremy Vine says
The broadcaster is a passionate defender of safe cycling, but take some of what he says with a pinch of salt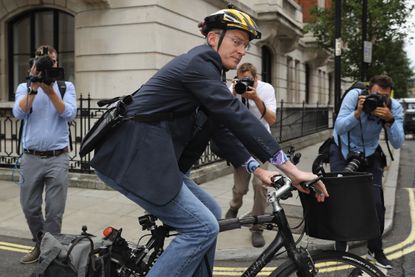 (Image credit: Getty Images)
Get The Leadout Newsletter
The latest race content, interviews, features, reviews and expert buying guides, direct to your inbox!
Thank you for signing up to The Pick. You will receive a verification email shortly.
There was a problem. Please refresh the page and try again.
It's a day that ends in the letter 'y', which means Jeremy Vine is in the headlines again.
This time, the BBC and Channel 5 presenter has been picked up on his comments about pulling over for cyclists in cities. Speaking to the Sunday Times, Vine said: "I do think, firstly, we shouldn't allow any overtaking of bicycles in big cities. That's one step.
"And I'm starting to think I want cars to pull over if they see me behind them because they know I'm faster."
These comments are inescapable this morning. Many publications construed what Vine said as a push for legislation, a call for government action. From what I see, he's merely asking for courtesy.
Let's start with the first part, the bit about clamping down on overtaking bicycles.
Under Rule 163 of the Highway Code, motorists are told to "leave at least 1.5 metres when overtaking cyclists at speeds of up to 30mph, and give them more space when overtaking at higher speeds."
I live in London, and speak from experience when I say, if this rule was strictly enforced, there would be very little overtaking of cyclists anyway. The roads are too narrow, and with a constant stream of vehicles in the other direction, there's rarely a safe opportunity to give the required space. Yet it still happens, so new rules don't seem like the answer.
Still, it's the second part of Vine's comments that has really stoked the fire. Here they are again: "I'm starting to think I want cars to pull over if they see me behind them because they know I'm faster."
But it is simply unrealistic to mandate motorists to pull over for cyclists.
According to data from transport software firm Basemap, the average driving speed in Britain's three largest cities was 22.6mph between 2019 and 2022. I, like Vine, am a keen cyclist, but there's no chance I can sustain that speed past Liverpool Street Station in rush hour, nor do I expect cars to part for me like the Red Sea for Moses.
This, I'd guess, is unlikely to be what Vine is asking for, either. His suggestion isn't outrageous, though. The Highway Code says that on quiet streets, or in slow-moving traffic (see: any British city), "if a faster vehicle comes up behind you, move to the left to enable them to overtake, if you can do so safely."
There's no reason why this shouldn't apply to cyclists, too. We don't need a blanket rule that says, 'When you see a cyclist in your rear-view mirror, swerve left and plough into the curb', but a bit more awareness to make more space would go a long way.
All of this said there's rarely a willingness to understand Vine's comments.
The presenter, who captures and shares footage recorded from a camera fixed to his helmet, is often criticised for his 'ardent' pro-cycling stance. Generally, though, what this boils down to is his desire that neither he, nor anyone else, gets killed while riding a bike.
When he stuck up for a cycle lane in Hammersmith, a report in The Telegraph suggested he was favouring congestion ('Scrapping bus lane for Jeremy Vine's favourite cycle lane increases congestion, TFL admits'). And when someone in a 30-ton bus narrowly passed him in March, the MailOnline used the incident as the focus of a 'who's in the right?' article - a format used to prey on a faux culture war that splits cyclists and motorists into opposing camps (NB: the majority of cyclists are also motorists).
Even when he's talking off the cuff, like in the Times piece, Vine's comments are taken as gospel, and used as fuel for this fire. Without wanting to sound like the person from the 'Leave Britney Alone' video, I think it's time to stop overreacting whenever the presenter defends cycling.
Motorist, cyclist or pedestrian, we all have a duty of care to each other when we share the roads. Perhaps we should focus more on that, and less on blowing one man's commute out of proportion.
Thank you for reading 20 articles this month* Join now for unlimited access
Enjoy your first month for just £1 / $1 / €1
*Read 5 free articles per month without a subscription
Join now for unlimited access
Try first month for just £1 / $1 / €1
Get The Leadout Newsletter
The latest race content, interviews, features, reviews and expert buying guides, direct to your inbox!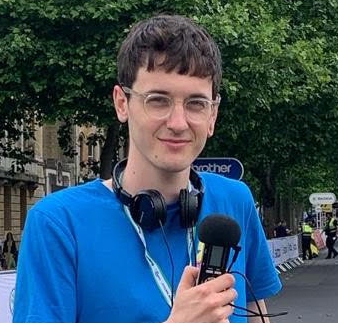 Tom joined Cycling Weekly as a news and features writer in the summer of 2022, having previously contributed as a freelancer. He is the host of The TT Podcast, which covers both the men's and women's pelotons and has featured a number of prominent British riders.
An enthusiastic cyclist himself, Tom likes it most when the road goes uphill and actively seeks out double-figure gradients on his rides.
He's also fluent in French and Spanish and holds a master's degree in International Journalism.