Paul Oldham dominates in the north east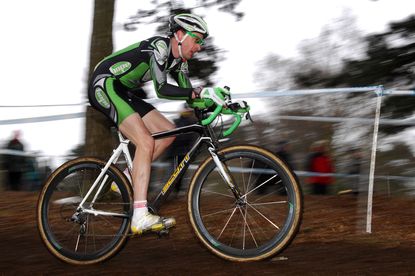 National Trophy Series leader Paul Oldham made a successful cross-country trek to take part in the fifth round of the North East League at South Shields on Sunday, winning convincingly by around four minutes.
The Hope Factory Racing rider from Colne in Lancashire made the journey to the other side of the country for the event at Temple Park, which incorporated the National Fire Service Championship.
Oldham soloed to victory on a mixed course, which was soft but held together reasonably well, only cutting up in a few places late in the race.
MTS Cyclesport rider and local league regular Stuart Wearmouth settled for second after a race-long battle with Scott UK veteran Nick Craig. And Oldham's pace was so high that only three other riders avoided being lapped.
Black Hawk Bikes rider Alan Nixon won the Fire Service Championship.
Elsewhere, Under-23 rider Ben Roach (Cult Racing) won the fourth round of the Notts and Derby League event at Bingham Leisure Centre in Nottingham, beating Oldham's team-mate at Hope Factory Racing, Dave Collins, by ten seconds.
And there was a tight battle for the final podium spot, with another espoir, Raleigh RT's Tom Lowe, edging ahead of Empella rider Ben Eedy by the narrowest of margins, 1:56 behind Roach.
In the Lincolnshire League, Bycka Sport rider Mark Cotton secured his first win of the season, sprinting home just one second ahead of rival Rick Lister (Gabby Day Racing), while Zepnat RT's Leigh Andrews was third, another minute off the pace.
In the Welsh League, Cwmcarn Paragon's Andrew Baum won by 42 seconds from Joe Lally (CC Abergavenny) in the fourth round at Carmarthen Park.
The promoting club's William Worral (Towy Riders) took third, another 20 seconds off the pace.
The winner of the first two rounds, Matt Holmes (Arctic RT) won the sixth round of the London League at Fowlmead Country Park near Deal on Sunday.
Holmes was around a minute ahead of Mosquito Bikes junior Hugo Humphreys, and returned to the top of the podium after finishing third twice and taking a second in the previous three rounds.
His team-mate at Arctic RT, Darren Barclay won the sixth round of the Eastern League at Davey Down in Essex, beating XRT Elmy Cycles rival Nathan Miller by 36 seconds.
And also winning convincingly was Hargroves Cycles' Stuart Bowers, who crossed the line around a minute clear of his nearest rival, Jamie Newall (Corley Cycles) in the Bill Higson Memorial cross in Reading, which was the fifth round of the Wessex League.
In Cheshire, Team Elite rider Paul Bethell won the Weavey Valley cross at Pignut Hill in Northwich, beating Giles Drake (Colnago) in the sixth round of the North West League.
And Bradford Olympic celebrated a one-two in the Yorkshire Series, with Tim Baldwin pipping team-mate Rob Watson at Bradley Woods near Brighouse on Sunday.
Thank you for reading 20 articles this month* Join now for unlimited access
Enjoy your first month for just £1 / $1 / €1
*Read 5 free articles per month without a subscription
Join now for unlimited access
Try first month for just £1 / $1 / €1