Pendleton stripped of her stripes in Apeldoorn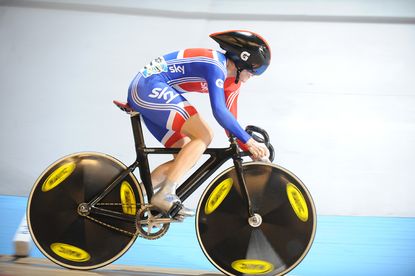 Victoria Pendleton's four year reign as world sprint champion came to an end at the weekend. The reigning Olympic champion, and world champion since 2007, was knocked out by the rampant Anna Meares of Australia in the semi final before bouncing back to take the bronze medal ahead of Olga Panarina.
The day after taking the bronze she was expected to come back strong in the keirin, but a series of under par performances culminated in a win in the 7 - 12 final.
She ended the world championships with the bronze medal from the sprint and a silver from the team sprint.
With less than 500 days to go to the Olympics losing her title could have been a disaster for the British sprinter, but if anything she looked relieved. "Wearing the stripes is wonderful, don't get me wrong I'd love to have that stripey white jersey every single year that I'm racing. But wearing them is sometimes a bit of a burden," Pendleton said afterwards.
"You do feel like you're wearing a target and to have someone else wear them and have something to chase is a positive thing."
Pendleton dug deep to cling on to her title post Beijing but Meares is now top dog, winning the sprint, keirin and team sprint in Apeldoorn, a feat Pendleton herself achieved in 2007. "She is in the form of her life and has done a great job of getting it all to come together today and really deserved that title," said Pendleton
"I'm not necessarily in the form of my life and I'm committed to the fact that I'm working on a two year program here. Early in the season I knew that entering this competition I might have to put it in perspective and accept that its not going to be plain sailing."
An encouraging silver came for Pendleton in the team sprint, riding with Jess Varnish, but she looked out of sorts in the keirin on the final day. "Having three events has definitely changed things, I think it takes the emphasis off the sprint a little bit. The training is very similar but there's something to learn from pacing yourself and stringing the rides together, but it's not that straight forward."
Victoria Pendleton will have to race in her red, white and blue GB kit for the next year
Thank you for reading 5 articles this month* Join now for unlimited access
Enjoy your first month for just £1 / $1 / €1
*Read 5 free articles per month without a subscription
Join now for unlimited access
Try first month for just £1 / $1 / €1