Philly Bike Expo: a spotlight on diversity in bike builders and their builds
Take a look at these stunning and capable steeds made by this year's crop of PBE x SRAM scholarship recipients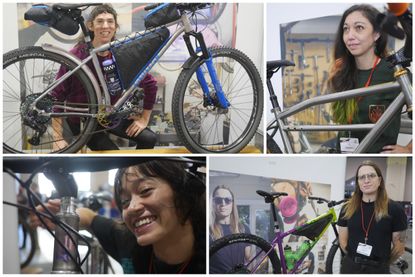 (Image credit: Elisabeth Reinkordt)
"Cycling is far more diverse than the industry gives it credit for being," says SRAM's Brook Fowler.
The Philly Bike Expo x SRAM Inclusivity Scholarship program aims to place some of that diversity in the spotlight.
Now in its third year, the program brings in a few builders from diverse backgrounds who historically haven't been part of the regular show circuit. These builders — both experience and new— are provided with SRAM components, travel funds, lodging and premier booth space at the Philly Bike Expo to showcase their talents.
"We know there are so many frame builders out there, but it's hard to know how big the actual market is," says Fowler, who credited the Philly Bike Expo for their emphasis on being an inclusive space as a natural fit for the program.
"We have always wanted the Philly Bike Expo to be something for everyone, no matter where you ride, who you are or what sort of bike you're on," says Philly Bike Expo director Bina Bilenky.
"We're happy to have gone from recruiting builders the first year to having a great pool of applicants, and I want to encourage those who might be hesitant to apply to get in touch and submit an application."
"It's exciting to see the diversity in what they build. They can request whatever parts they want from us, and we don't know what they'll be making until we see it all come together," Fowler says.
Fowler sees each year's builders are ahead of the curve on trends, noting that they see ideas emerging here that will become more widespread in a few years.
The Cross-Country Mover
Image 1 of 7
"I think bikes are tools of joy, and they're also tools of extending our own abilities and our own boundaries."
In 2022, Eva Kloiber (she/her) of Liberation Fabrication relocated from Seattle to Pittsburgh. Her build for the Philly Bike Expo looks ready to have carried her cross-country. It is a bike that emerged from her headspace as she embarked on this move, representing the before and after, with elegant couplers for ease of traveling back for visits and adventures. It sparkles, with a handmade headtube badge of anodized titanium and a bespoke fender. She chose water bottles from her old and new shops as a nod to the past and present.
Kloiber finds joy in a bicycle's ability to go anywhere, and loves to ride singletrack in the city, which is part of what drew her to her new home. She is also drawn to endurance cycling, where "it's not me versus someone else, but just me against me, pushing my personal boundaries."
Kloiber's work is grounded in her community, with friends offering workspace and workshopping ideas, such as the unique routing of the cable for the Dynohub. Kloiber's bike is outfitted with touch points from SQLab, a company she credits with "building ergonomics for average people, and innovation focused on comfort."
"I think the American bike industry is very focused on performance cycling, when 99% of people riding bikes are not riding them in performance environments," she says.
"If we think of this in the context of disability, there are people who don't ride bikes because of comfort, and we should widen the audience of who bikes are for and what we think of as bikes to create a more inclusive industry."
Next on the horizon or a dream build kicking around in Kloiber's head? A full-suspension mountain bike, worked out in her self-described "deep math nerd brain."
But she's thinking of this not just for trails, but also as a bike that solves for poor infrastructure and bad road conditions to make for a more comfortable ride.
The Dream Build
Image 1 of 5
"I want this bike to be the one I'm riding for the rest of my life."
Katrina Leyden (she/her) of Benevolent Bicycles loves a good solo ride. "Bike riding is a way to clear my head, a way for me to commune with nature, and to get rid of stress" she says. She recalls a childhood experience doing a triathlon on an uncomfortable bike, and after years spent as a competitive swimmer, she returned to bikes post-college as a way to move around the city and explore self-sufficiently. At the top of her list: she wants a bicycle ride to be pain-free.
The Boulder-based builder and engineer is showing the bike she named "Dream," and it is a bike she has thought carefully about designing to be her forever bike. She is keen on sustainability, and her build includes smart considerations so the bike can adapt as she uses it for different purposes, or needs to make adjustments as she ages. She also wants it to be something she's able to maintain with ease, whether at home or on the road, with parts that are easy to find and replace and won't be obsolete.
"I start with what I want the bike to be able to do, and then design around that," she says. "So I wanted a long-distance bikepacking bike, I want to ride the Tour Divide and the Baja Divide on it, but I also want to be able to go fast when I'm riding around at home in Boulder." It has boost spacing and ample clearance, but looks sleek and fast. Swap out the chainring, and the speed machine becomes a gentler spinner.
Leyden's dreamy build features several custom anodized stencils–a unicorn on the headtube, the phases of the moon on the seat tube, and a planetary themed framing to the "Built by Katrina" lettering on the non-driveside chainstay. She wanted "to feel like I was riding a unicorn," where the phases of the moon represent life cycles and changes, and the planets and shooting stars are an homage to Lisa Frank and Sailor Moon.
When Leyden found out she had received the PBE x SRAM scholarship, she had decided to take a break from framebuilding to go to Taiwan for a language immersion intensive. She spent the last couple weeks in Taiwan thinking about what she wanted this bike to be, the first she's built herself from start to finish. When she was working in-house with Dean Titanium, she was working from drawings to do the fusion welds, but not starting from ideation to reality. But while this build started when she got word of the scholarship in May, she says it's the culmination of all her years of experience in the industry, tying back to her time as a machinist at Paragon Machine Works, too.
"There's a long road ahead if we're actually going to address the climate crisis and the energy crisis we are living in," Leyden says, and she hopes the industry takes note of how they can be part of a more sustainable future. "The world doesn't need faster bikes, it doesn't need more fast and competitive people on bikes…it needs more people using bikes to get around."
The Speed Holes, for Fun
Image 1 of 7
"I want HotSalad to be about that sh$t-eating grin on your face at the end of the day because you just had a great day on the bike."
B Vivit (she/they) of HotSalad Bicycles just wants you to ride bikes. Whatever type of bike it is, wherever you're going, she wants you to feel free when you're riding. For her, bikes were a way of finding and connecting with her people, and she hopes to bring this feeling to her clients, too.
"I have a stupid amount of fun on a fixed gear, my road bike will forever be my standby, but I really feel like mountain is where my heart is going, and so I'm really digging into it," she says. "When I ride, I want to feel free, and I want to feel welcome."
Vivit loves ideation, laughing that she had seven different designs before settling on the titanium klunker she brought to the PBE.
"The bike just kind of grew as I was building it," she says. "I wanted to make a bike that has gaps in it, to go foraging" —perhaps the next bike in the build queue— "but then realized I didn't have the time to make that happen right now, because I would need to fabricate parts that don't exist yet."
That is not to say this bike lacks in bespoke modifications nor unique details. Vivit machined rings to modify the Paragon headtube, adding dimension to the standard bell shape. The top tube is beautifully anodized with golden Shelby speed stripes that look like they have been polished with years of wear. The secondary top tube has three punched-out speed holes, for (of course) fun. Those three holes are echoed in the rear drop-outs, just below the beautiful welds attaching it to the rear triangle.
Vivit, now based in Portland, Oregon, has built bikes for many clients, and each time, she's drawn to the process.
"I don't feel like I have an ego about what different type of bikes I make," says Vivit. "Every time I sit down to weld or every time I'm mitering, I just think, 'this is gonna be sick!'"
Because of this, she says, it is important for the people she builds for to come to them with their ideas and embrace their own participation in the process.
"I want to have a conversation where you tell me what you want in the bike; I'm not going to tell you this is what you should do," Vivit says.
Vivit brings a deep bench of experience and knowledge from other parts of the industry, including as a mechanics teacher at the United Bicycle Institute, and work in bike shops on the retail and service sides to her builds.
"For years, SRAM has made levers that are a better fit for people with smaller hands, who are often women," they say.
"So when I start a build, I'm thinking about whether I'm making something with that groupset, because that's really important when I start making those chainstays."
This thoughtfulness about what is available or what is appropriate extends to a run of gravel bikes Vivit recently made to accommodate donated parts from a community bike shop. And ultimately, she hopes the industry continues to recognize this need for adaptability.
The Trail-Blazer
Image 1 of 8
"I don't build my bikes to be 'flickable' because I want them to be more stable, more built for speed–I want to feel good going really fast."
Em Karau (she/they) of WZRD Bikes loves nothing more than a technical trail ride, and wants riders of their bikes to feel stable and planted. A self-described geometry nerd, she likes working with fitters and customers to really home in on a build that works for each rider.
Karau started racing BMX in high school and got their first job in a bike shop not long thereafter. They haven't left the bike world since. They build mountain bikes to explore the woods around their home in Victoria, BC, — a place they moved to attracted by the trail riding on Vancouver Island, steep and technical, both up and down.
A friend of previous PBE x SRAM builder Danielle Schon, Kaurau was encouraged by Schon to apply, knowing right away they would build themselves a new enduro mountain bike.
"I've been riding a bike a lot that has very similar geometry, but that was Frame #4 and this is Frame like #40-something, so a lot has changed in my process since then, so I was excited to make myself a Modern WZRD," they say.
Karau's show bike is most certainly ready to go down trails fast. Slack, burly and with beautifully done welds intentionally left rugged and unfiled.
"I build bikes that go in the woods, the production doesn't need to be all polish," they say, noting that above all else, they want their bikes to be fun.
The paint job was done by Karau's partner, with bold purple and green slime reminiscent of '90s cartoons or comic book art.
Karau outfitted the bike with additional components from other BC-based brands, such as the stem from Chromag. They want their bikes to be serviceable and user-friendly, evidenced by the clever cable routing to the rear mechs–internal but not inaccessible.
"I won't build a bike with external cable routing, but I want the internal routing to be user-servicable," they add, with emphasis placed on user.
Next on the build horizon for Karau is a dual-suspension bike. And as they look ahead to this build, they would love to see a rear triangle jig to help facilitate the process of building full-suspension bikes.
Thank you for reading 10 articles this month* Join now for unlimited access
Enjoy your first month for just £1 / $1 / €1
*Read 5 free articles per month without a subscription
Join now for unlimited access
Try first month for just £1 / $1 / €1
Elisabeth Reinkordt is a writer and multimedia artist based in Philadelphia, PA. A native Nebraskan, she was a bike commuter who got hooked on bike racing on a dare, dabbling in all the disciplines from the early days of Midwest gravel to several UCI cyclocross seasons. She has mentored several dozen riders as the co-founder of WBPHL Devo, a development program for women, trans, and non-binary people getting into cycling, as well as girls in the Little Bellas MTB program. She's generally happiest solving challenging technical puzzles on her mountain bike.