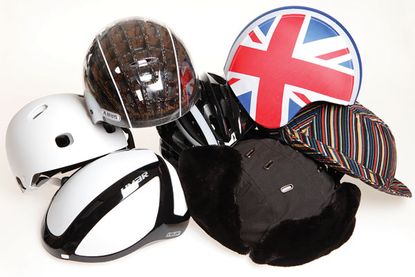 Words: Chris Catchpole
Gone are the days of oversized, bulbous, ugly helmets that hang off the back of your head and slowly asphyxiate you as you struggle up long and lonely hills. Modern helmets are cool, comfortable and safe. I spent some time browsing shops on the high street and online to find seven of the newest and most stylish helmets, perfect for your leisure ride or morning commute.
One thing you'll notice is the sheer variety on offer. Here, from a choice of seven, you can have skater-style lids, helmets that look like casual hats, protection with lights attached and even helmets made out of cardboard. Choosing the colour of your helmet is the last in a long line of questions you'll have to ask yourself when you start your search. Believe us, there's plenty more on offer that we couldn't fit in this test.
Helmet prices vary in the same way as they do with bikes. You can get a no-frills, budget helmet for a tenner if you look hard enough. But for maximum protection and style points, or quirky and interesting accessories and upgrades, you'll have to spend slightly more. The models here range from £55 to £100 each. It's worth considering pushing your budget because when it comes to protection, your head deserves the best you can afford.
What to look for
You can trust Cycling Weekly. Our team of experts put in hard miles testing cycling tech and will always share honest, unbiased advice to help you choose. Find out more about how we test.
Fit is priority number-one for a helmet, but keep your eyes peeled for these other details
Safety
Check the safety ratings and make sure they meet at least the basic CE international standards. If getting seen is high on your priority list, some helmets include lights, fluoro colours or reflective panels, so check out what's on offer.
Ventilation
A big factor in comfort can be keeping your head cool, or warm, depending on the temperature. Bear in mind that some helmets will suit winter chills, while others will excel in summer heat. Take note of ventilation holes. If you're wearing a lid year-round, you might also want to invest in a fitted beanie hat or skull cap to keep the wind at bay in winter. It's cheaper than drilling holes in your lid during summer or having to buy a second helmet.
Accessories
Locks, bags, crowns! Some of these helmets come with great accessories, so keep the little things in mind and see what you get for your money. Sometimes it's not all about the main product, but about the freebies and accessories on offer too.
Abus Kranium Performance £80
Cardboard wouldn't be top of my list of materials if I was designing a helmet but university graduate Anirudha Surabhi's revolutionary design was good enough to land him a big-brand deal with well-known helmet and lock maker Abus. The helmet surpasses all usual helmet standards and offers three times the impact absorption of a 'regular' helmet.
The clear case on this model displays the cardboard structure but opaque painted versions are also available. The Kranium has just one small vent on the front, so it's probably not ideal for hot summers in the city but for winter the extra wind protection is of benefit. This helmet wins on safety and green credentials, but packs a bit of a weight penalty.
CA Rating
9/10 Recommended
Casqu'en Ville Karaneige £80
If I walked past you in the street wearing this, you wouldn't know it was a helmet. On the head, it feels secure and safe, and the deerstalker exterior helps to fend off wind and keeps your ears toasty warm. Inside, the style is pretty much that of a standard BMX lid, and it's well ventilated to boot.
Like the Yakkay, this one is all about the look, but unlike it, the Karaneige offers a good fit and is comfortable for longer journeys. Get them while they're hot and the weather is not.
CA Rating
8/10
Egg £74 (total price)
The Egg went down a storm in the office and out on the street. Egg offers many different covers (£12 each), from pretty patterns to army camo. There's also a host of ornamental accessories (also £12 each), like the 'Mohawk' pictured. The fit encapsulates the whole head like a small motorbike or downhill lid.
The size can be adjusted thanks to an inflatable interior, making the fit perfect for a wide range of heads. The design left me feeling hot and a little claustrophobic but that's just because I'm not used to having so much of my head under wraps. The Egg is a 'multisport' helmet, so scores double-plus points for versatility.
CA Rating
9/10 Test winner
Limar Velov £80
The Velov looks somewhat like Giro's new professional aero helmet, the Attack. Unlike the latter, this lid is very versatile. The Velov isn't designed for speed (although any extra bit of speed it gave me on my commute was appreciated), but rather for adaptability in varied conditions.
The white plates are removable with a simple clip, meaning you have a choice of wind protection on cold days or ventilation for hot days. It's a simple and clever idea that adapts your helmet for all seasons. On colder days, I was less likely to need the extra warmth of a hat, which was a nice change. And if it ever does warm up this year, I know I won't get too hot either.
CA Rating
8/10
POC Receptor £100
It always seems odd to me that minimalism costs extra, but it's true. Just watch Grand Designs. POC cements this fact with its Receptor commuter helmet: a plain white helmet that costs £100. You're not just paying for simplicity, though — comfort is top-notch.
There are well-placed vents, and the whole package feels very well made using really nice, tactile materials. It should last a long time. The Receptor's rear strap adjuster at the back is a good example of simple design that looks great and works well. It has the same magnetic buckle as the Abus, which is easy to use too. This is a very good-quality helmet that looks great but at a price.
CA Rating
8/10
ProViz Triton £55
Fluoro is 'on trend' this year but not everyone wants a bright yellow bonce when out riding. Luckily, black can be stylish and safe thanks to the Triton's reflective sticky tape strip. Visible from all sides, it certainly stands out although I would be worried about its longevity.
There's also a light attached to the rear to increase visibility, making this one safe bit of kit. At £55, it's a bit of a bargain too. More of a 'regular' helmet than the others on offer here, but sensible isn't always a bad thing. It might not grace a fashion catwalk any time soon, but for my tastes, as a bit of a roadie, it's a pretty snazzy choice.
CA Rating
9/10 Best on a budget
Yakkay Tokyo £90
Style points aren't enough to give the Yakkay a high score, though, as the helmet itself is of very low quality. The fit was poor and offered low levels of comfort. With no concession made to adjustability, this helmet will either fit or not, depending on your shape of head. Bear in mind it's worth trying on before you hand over the cash.
CA Rating
6/10
Verdict
How do you split seven helmets that are so varied? It's all down to personal taste, but the standout winner has to be the king of bling, the Egg. A crazy winner? Yes, I know it doesn't look like a regular cycling helmet at all. But what it offers in terms of protection and comfort is exceptional, and at a competitive price to boot. Add the fact that it's very customisable and can protect you in a range of sports, and there's clearly no other helmet here that can compete.
As for the best of the rest, the Abus Performance and the Proviz Triton are worth a look. They both have conventional bike helmet appearances, and they both have safety as their top priority, with each offering it in different ways. The Abus exceeds regular helmet safety standards, so it should do a good job when you fall, whereas the Proviz tries its best to protect against collisions with reflective highlights and a rear light.
Thank you for reading 20 articles this month* Join now for unlimited access
Enjoy your first month for just £1 / $1 / €1
*Read 5 free articles per month without a subscription
Join now for unlimited access
Try first month for just £1 / $1 / €1