Bikes from the 1950s onwards at Wilier
A look at some of Wilier's collection of bikes going back to the 1950s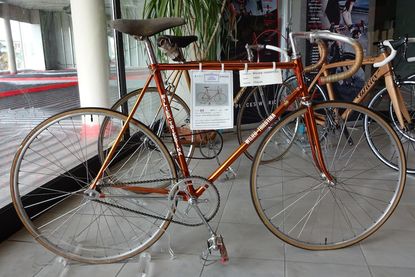 With a history going back to 1906, Wilier has a huge amount of cycling heritage. Founded by Pietro Dal Molin, the brand won the Giro d'Italia with Fiorenzo Magni in 1948.
>>> Wilier launches Cento10 Air aero road bike
It went into hiatus in the 1950s following an unsuccessful foray into motorcycles, before being resurrected by Lino and Antonio Gastaldello in 1970. Lino was killed in a collision with a car while out cycling in 2010 aged 71, but the company continues to be run by his three sons. His photo is displayed in several places around the Wilier factory north of Venice.
>>> Marco Pantani's Alpe d'Huez record setting Wilier
Wilier's bike collection goes back to the mid-1950s, when the acme of cycling tech was the Campagnolo Cambio Corsa rear mech. To choose between its three gears, all you had to do was to flip a lever on the seat stay to release the rear hub, back pedal to disengage the chain, flip another lever to push the chain between cogs, pedal forwards to reengage the chain and finally reflip the first lever to tighten the hub again. Pro cyclists could change gear in a few seconds.
>>> However large you like your gravel, Wilier has a bike for you
Wilier's stock in trade was its Giallorosso frames, made by highly polishing the tubing before plating it and it has bikes in this finish going up to the mid-1980s on display.
>>> Wilier GTR Team Endurance Athena review
There's some lovely lugwork on its older bikes along with an array of Campagnolo's finest technology, much of which has been custom etched with Wilier's branding.
Thank you for reading 10 articles this month* Join now for unlimited access
Enjoy your first month for just £1 / $1 / €1
*Read 5 free articles per month without a subscription
Join now for unlimited access
Try first month for just £1 / $1 / €1