Cannondale SuperX and CAADX cyclocross bike ranges relaunched
Cannondale has today announced a completely redesigned cyclocross bike range in advance of the new season.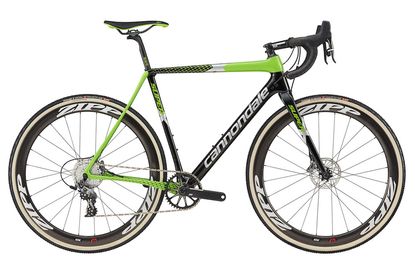 Key features of the new carbon SuperX and alloy CAADX include full internal cable routing on the SuperX and very slack head tube angles for a more planted ride. David Devine, Cannondale's senior product manager says: "Modern cyclocross courses are becoming more challenging and races are becoming faster and more aggressive. Riders are demanding bikes that can address these challenges, and we have designed the SuperX and CAADX to address the most important needs for today's courses – stability and traction."
Watch: Cycling Weekly's cyclocross bike buyer's guide
Cannondale calls its new steering geometry Out Front. Head tube angles are around 70 or 71 degrees, dependent on frame size and this is paired with a 55mm fork offset, which Cannondale says increases stability on technical courses while still retaining steering agility.
>>> How to get into cyclocross by Ian Field
At the back the chainstays' length is 422mm. Cannondale claims that this is shortest in class for good traction. In the SuperX this is coupled with a design which shifts the drivetrain 6mm to the right. This allows the bike to take up to 40mm wide tyres and use a rear wheel in which the rim is mounted centrally on the hub for better distribution of forces and increased mud clearance.
>>> Cannondale Synapse Carbon review
In addition, Cannondale has transferred over its Speed Save system of flexing areas in the stays and fork for a more comfortable ride. Many of Cannondale's new bikes use an ultra-narrow 25.4mm seatpost for increased flex and comfort. This is used in the new bikes, along with an integrated seatpost clamp in the SuperX which increases the free seatpost length above the seat tube junction by 2cm.
>>> 15 images from the 2015 Three Peaks race
Both frames use flat mount disc brakes and thru-axles and have internal brake cable routing with the SuperX having its gear cables routed internally too. The SuperX also has a removable front mech hanger for when a SRAM 1 drivetrain is used. The CAADX will additionally take a rack and mudguards for more all-round use.
>>> Watch: Helen Wyman's power data shows how hard cyclocross is
Dollar prices for the SuperX range from $3000 with 105 gearing through to $8500 for the Team with SRAM Force and Zipp 303 tubular wheels. The CAADX starts at $1350 with Tiagra and goes up to $2060 with Apex 1. Both ranges feature a women's model.
Thank you for reading 20 articles this month* Join now for unlimited access
Enjoy your first month for just £1 / $1 / €1
*Read 5 free articles per month without a subscription
Join now for unlimited access
Try first month for just £1 / $1 / €1