Condor partners with Blaze lights to create a unique custom paint job
London based bike Condor and light company Blaze team up to showcase a unique fixie bike with custom lights too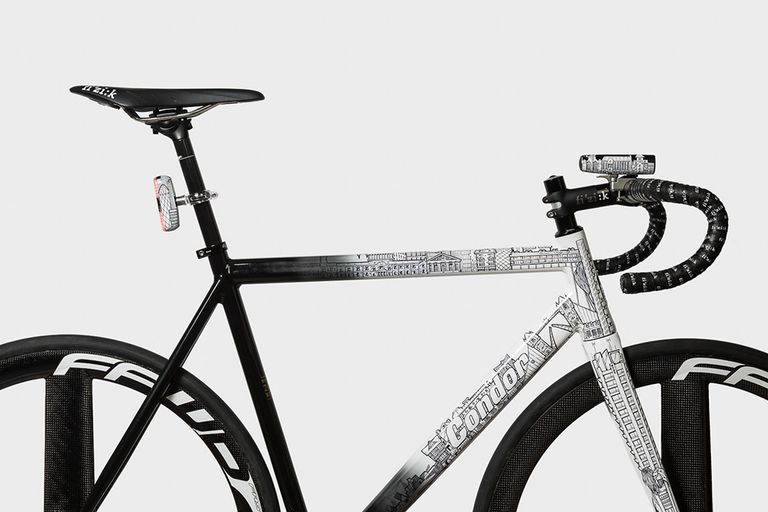 Bespoke custom painted bikes have been getting increasingly popular throughout the realms of cycling - we've seen a number from the American brand Specialized recently - though none that have been uniquely linked to London.
Condor and its head of design, Ben Spurrier designed two unique bikes for the winners of the women's and men's fixed gear criterium race at the Rapha Nocturne earlier in the year, a design that takes its inspiration from the city where Condor resides.
"Being a Londoner working for Condor, a marque rich in London heritage helped guide my ideas and I very quickly arrived at the decision that I wanted to create a piece of artwork which reflected the immediate surroundings of the Nocturne race course, the City Of London itself," Spurrier said.

Elements of the design link to some of the more hidden marks around London, including the dragons that denote the entrance to the ancient City of London and mounted at the entrance of the Coal Exchange.
"I wanted to celebrate the architectural diversity of the city, so there are medieval buildings sitting alongside modernist and brutalist favourites such as Trellick Tower and the Barbican centre while elsewhere sits Tower Bridge, HMS Belfast and St Paul's Cathedral," added Spurrier.
"Underneath the down tube is the River Fleet and its labyrinth of ornamental brickwork tunnels which run almost under the race venue, while the head tubes of each frame carry the famous dragons which mark the boundary of the Square Mile – it is within this ancient boundary that the Nocturne takes place"
Spurrier used two Stabilo permanent fine liners and took over three weeks to prepare and hand draw the design to the Columbus-tubed Condor Lavoro frame, which he also applied to the casing of the Blaze rear Burner light and front Laserlight.
The bike and lights will be following Condor around the UK bike shows to show case its design.