Derbyshire shoemaker's retro cycling shoes complete the Eroica look
William Lennon and Co is the only English maker of retro cycling shoes which can be used with toe clips and straps.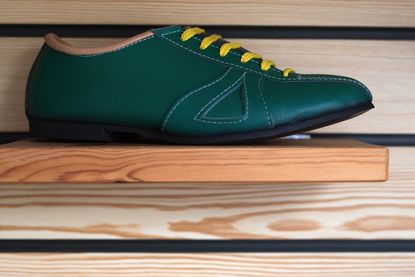 (Image credit: Rod Kirkpatrick/F Stop Press)
With Eroica Britannia just around the corner – the vintage cycling festival runs over the weekend of 17-19 June – completing the look requires a pair of old-fashioned cycling shoes.
>>> Eroica Britannia: a unique event
Eroica Britannia takes place in Bakewell, Derbyshire and England's only manufacturer of cycling shoes which work with toe clips and straps is based in Stoney Middleton, just five miles away. Wiliam Lennon and Co has been around since 1899 and its main business is making work boots, but it also produces around 40 pairs of cycling shoes a week.
>>> Cycling shoes buyer's guide
The company's owner, Libby Slattery, the great-granddaughter of its founder, says that Lennon's shoes are a better fit for British feet than Italian-made products, which tend to be narrower. Lennon and Co has been making cycling shoes for around 7 years and has seen orders grow steadily over that time.
>>> Dr Hutch: the terrible truth about cycling shoes
Lennon makes both off-the-shelf and custom versions of its Arturo cycling shoes. They are hand stitched with leather uppers and rubber soles and it takes a day to make each pair. Off-the-shelf shoes are available in black or tan leather and retail from £75. They are available in sizes 3 to 12, including half sizes from 6.5 up, and can be ordered online from www.rufflander.co.uk.
>>> Eroica Britannia in pictures
Custom shoes can be made in any colour combination. They start at £92, but there's a waiting list of four to six weeks for a pair, so you're probably too late for this year's Eroica Britannia, although the company has exhibited its wares at the festival in previous years.
All images courtesy of Rod Kirkpatrick/ F Stop Press
Thank you for reading 20 articles this month* Join now for unlimited access
Enjoy your first month for just £1 / $1 / €1
*Read 5 free articles per month without a subscription
Join now for unlimited access
Try first month for just £1 / $1 / €1