Eroica Britannia: a unique event
Eroica Britannia was held in the Peak District's town of Bakewell for the second year, and Chris Catchpole headed north to enjoy the vintage atmosphere. Photographs by Liz Seabrook for Brooks England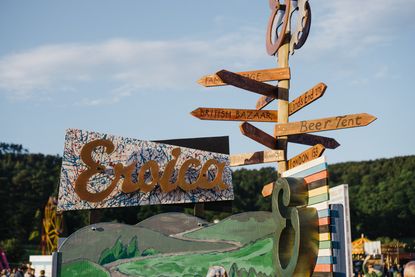 It's a long bus ride to the Peak District from London, but I knew it would be worth it. I've heard good things.
My trip to the Peaks is all about a weekend of wool and beards at the vintage-style Eroica Britannia cycling festival. It's much colder up north, with sporadic rain showers and gusty winds frightening the soft southerners among us, but the excitement of festival goers, many of whom will be taking to their vintage bikes for the ride, is palpable.
As we saw last year, with contributor Ian Parr's account of the inaugural event, vintage cycling is a niche but popular attraction. Last year 30,000 people attended the festival, and 1,800 cyclists mounted up for the local roads, having either brought their own special steed along, or hired a bike just for the occasion.
Unlike the original Italian event, held in Gaiole-in-Chianti (a region of Tuscan beauty) each year, the British version, despite the Eroica branded name, was born with its own feel.
Much more a reenactment of the British summertime festival or summer fete than the Italians' 'all about the ride' approach. In Italy, you go for the famous white roads - the Strade Bianchi - but here in middle England, you come for a whole weekend of various cycling and family related fun.
Bike jumbles, vintage clothing stools (full of course, with retro jerseys), live music and a plenty of festival foods are all part of the experience.
Also part of the experience is the local town of Bakewell, which appeared to gladly host the event, judging by the smiles on the faces of locals we passed by.
There are a lot of similarities to the Italian original. Of course, a vintage bike is still a must. A basic rule which cements all of the international Eroica rides.
>>> How I learned to love L'Eroica
Pre-1987, exposed brake cables, downtube shifters and absolutely no clipless pedals. With that agreed, I picked up my loaner from the guys at GloryDays.cc: a service dedicated to hiring really old bikes.
My steed for the weekend was a Keith Lambert steel machine, built, I'm told, by a lovely guy based in Bingley, West Yorkshire (probably called Keith). I've never heard of the name before, but I can attest to Keith's work. The machine was faultless all weekend - thanks to both Keith's build, and Glorydays' ongoing maintenance.
For the second time around the event had grown substantially, up to 50,000 people wandered the stalls and enjoyed the music over the weekend.
The festival was bigger and better in every way, although probably at the limit of maintaining the small town fete atmosphere. Live music, a small funfair and a tent dedicated to cycling movies and live interviews were all full over the weekend.
The ride was also much more subscribed, with 3,600 cyclists tackling one of the three routes. And after a Saturday of every kind of wind, rain and sun possible, riders were left with a mostly hot and dry Sunday for the ride.
I attended the weekend festival thanks to one of the sponsors, Brooks England, who had invited a large collection of international dealers, distirbutors and press to the Peak District.
Being thrown together with random riders for a press trip can lead to some interesting experiences, so I was excited to see how our ragtag group of twenty five international riders would fare on roads which were just as new to me as my Australian, Japanese and European comrades.
As it was, we strung out in to a collection of smaller groups and got stuck in to what the Peaks had to offer. A smile translates well internationally, so it was easy to see everyone was having a good time as we spotted each other at various places along the course.
The roads were rarely flat, but large sections of Monsal Trail, where finely packed gravel covered old railway lines, had us riding at a good pace for much of the ride.
If you've never done it, handling a vintage bike and riding with groups of riders kitted out to the nines is really one of the great cycling experiences.
The moment I found myself riding a gravel farm track, with dark storm clouds in the distance, the sun on my face, and nothing man made in the past thirty years within sight, I knew it was an experience I wouldn't forget.
Other than the excellent organisation, the Eroica Britannia doesn't resemble a regular British sportive in any way. Rather than thousands of riders with their heads down, tucking in to energy gels atop of lightweight carbon bikes, riders were social, interactive, and enjoyed a random selection of real British foods.
>>> Blog: Why would anyone ride the Paris-Roubaix sportive?
Scones, sandwiches and cakes were all washed down with local beers and Prosecco throughout the ride, which seemed to mask the tiredness of some riders on the longer routes. This is how riders used to 'dope' in the past, so really, it's all part of cycling tradition.
After visiting the original Italian event last year, it was great to see the organisers hadn't tried to create a carbon copy. Instead, this is a very British version, which takes the basic idea of vintage bikes, fun, and food, and runs with it, creating a great event in its own right.
Back at the festival after an exciting 55 miles of road and gravel, our group reconnected and talked about the experiences of the road. The stories were all the same: old bikes are brilliant fun, long descents and old brakes make for aching hands, and why didn't we all keep our pre-1987 bikes? They're great fun!
Photographs by Liz Seabrook, for Brooks England.
Thank you for reading 10 articles this month* Join now for unlimited access
Enjoy your first month for just £1 / $1 / €1
*Read 5 free articles per month without a subscription
Join now for unlimited access
Try first month for just £1 / $1 / €1