Riding the white roads of Strade Bianche: How I came to love L'Eroica
Chris Catchpole takes a trip to Tuscany's Strade Bianchi roads for the annual vintage bike and beard-off that is L'Eroica.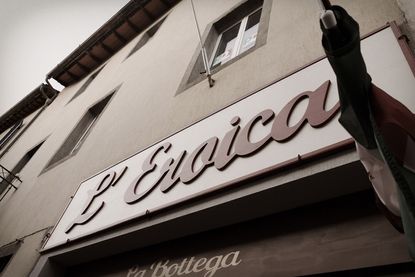 (Image credit: Tino Pohlmann)
Get The Leadout Newsletter
The latest race content, interviews, features, reviews and expert buying guides, direct to your inbox!
Thank you for signing up to The Pick. You will receive a verification email shortly.
There was a problem. Please refresh the page and try again.
The thing I know most about is beards, the thing I know almost as much about is bikes. I guess that's why Brooks England invited me along as a guest to the international vintage beard and bike feast that is L'Eroica
It's an event they sponsor, and they were very proud to host a collection of loyal dealers and customers, along with a few lucky media individuals.
That would be me.
L'Eroica, for the uninitiated, is a 'vintage' style sportive, based in the Tuscan region of Italy.
There are rules. Firstly, your bike should be pre-1987, with down tube shifters. Exterior brake cables (i.e. ones that don't run under your handlebar tape) are a must, and no clipless pedals are allowed. It's all about dipping in to the golden years of cycling for a weekend. When men were men, and bikes were heavy, slow and a little bit dangerous.
Sounds fun to me.
>>> Watch: The best finishes at Strade Bianche (videos)
Take Off
Coming in to land at Pisa airport, the pilot, expert as he was, delicately danced the airplane down through a cocktail of hot Italian air and pushy crosswinds. The plane bobbed and swirled, the tail like a shark in full attack mode but luckily, a safe landing was assured.
48 hours later and there I was on a fifty year old bike, headset knocking and hands clasped in a death grip around the dulled levers, decade old brake blocks bulging under the strain. I had no such confidence in my own abilities to safely land this bike back on tarmac after long and thrilling gravel descents.
This is L'Eroica. Gravel roads for which this region is famous for play, and are used in the annual Strade Bianche pro race, host to the fancies of thousands of vintage loving cyclists. Located in the Tuscan region of Italy, things kick off an hour south of Florence, in a place known as Gaiole in Chianti.
It's an event I've been dreaming of for some time, so when the invitation was suggested by PR man Bregan Koenigseker, from Brooks' Euro HQ, I packed my trusty B17 saddle immediately, even though the event wasn't for another few months.
The recent success of L'Eroica Brittania, (our country's own spin-off event) only seems to have fuelled the fire of vintage admirers in the UK. For every fan of lightweight modern high-tech machines, a brand new Luddite is born.
I for one love everything modern about bikes these days, but every now and then I need to lose the GPS, unclip my shoes, and just go for a good old-fashioned meander. It feels as if I was reverse engineered into liking this kind of thing.
The big ride happens on a Sunday in early October each year, but the day before is just as important.
Many of the several thousand entrants arrive into Gaiole a day early to soak up the building atmosphere of a town given over unreservedly to the people that make up this spectacular event. The town becomes alive thanks to a huge market selling second hand bike components, frames and accessories.
The market has become just as famous as the ride itself, and you'll see dozens of French, German and Spanish cars exiting town on the Monday after, boots and back seats full of parts, ready to build into a vintage bike (that will probably travel all the way back again next year).
>>> Strade Bianche: latest news, photos, videos, and reports
Nora Batty's Neighbours
On the morning of the ride, a long queue formed for the start of the 38 and 75km events. There were four distances to choose from. The longer 135 and 205km events started at a painfully early time, in the dark, at around 5-6am.
We didn't fancy that.
A much more reasonable start time of around 8-9am was given for us riders attempting the shorter distances. We reminded ourselves that the 75km was rumored to have more climbing than the next longest 135km route. This made us feel very smug. An extra two hours in bed, and more 'fun' for the day.
Many of the attendees didn't look much like 'cyclists', more of a ragged collection of Last of the Summer Wine extras. Long live the flat caps!
My expectations of seeing Merckx-like physiques chewing cigars and performing stretching calisthenics routines pre-race was about 50% accurate.
There were plenty of cigars and Molteni shorts, but the legs inside them weren't quite so lean, and the owners certainly weren't putting them through any awkward stretching techniques in preparation for a grueling day in the saddle. Unless you count the sharp intake of breath required when zipping up the famous orange and black jerseys.
After an hour of slow shuffling in to town, we had our cards stamped, and we departed. The card stamping becomes something of a right of passage for some riders. It proves you met each checkpoint, thus proving eventually, if you finish, that you finished.
The Vintage Experience
The ride started pleasantly enough, but after less than 10k, on a slight rise, I hoped for an easier gear and pulled the gear lever, too hard apparently, and the rear derailleur cable snapped.
This happened at the start of a difficult off-road climb, and I was forced to walk the majority of it. With the help of a person from almost every nation in Europe, we bodged the cable back in to place, and tied it around the seat post clamp. It held the derailleur in the middle of the cassette for a few miles, before I found a friendly mechanic to fix the bike completely. (Bit of side fun: the mechanic was present at the finish line, DJ'ing some very loud Van Halen tunes).
I caught my ride mates, an international crew of journalists and 'friends of Brooks', glad to be back with some familiar faces for the testing riding still to come.
Out on the 75km route there are three official food stops, plus a few unofficial ones. Each of them seem to be stocked by sellers of fine meats or wines, all of which were on offer for sampling.
The food improved each time, from simple bread and oil to delicious soups, fruits, sandwiches and always more meat and wine.
Riding the gravel roads, and especially descents on L'Eroica's 'Strade Bianchi' (White Roads) are very much of the same game as our veteran BA pilots experienced flying into Italy two days before (possibly), only perhaps with less disastrous consequences should everything end belly up.
The rest of the ride was fairly successful. Our group evolved through the course, always fragmenting and reemerging at stops.
On one late tricky decent an old Italian didn't understand my calls to "keep right, please!" and edged me off the course and into a bush. My commando roll was quite spectacular (belly up, indeed!) as was my luck, which saw me gain only a few bramble scratches and a still perfectly working bike.
These old things really are tough.
The Italian didn't seem too concerned. His question "you English?" had more than a hint of disdain. At least I assume it was a question. "You English!" was equally possible. I suspect I won't be the last crash he'll be party too.
Fitness First
A morsel of fitness will make the challenging climbs enjoyable instead of a tongue-chewing slog.
Riders without fitness were smiling just as much, thanks in part to the amazing food they knew was waiting, but mainly I think, because of the local wines generously handed out during breaks. It was certainly numbing the pain for some, possible as it was to get well and truly lubricated on hand outs alone.
The pastel beauty of this landscape had me questioning whether it was all arranged together by luck and scientific chance, or if something far superior created it just for fun. If God is real, he must be a cyclist, and this would be his play ground. Or perhaps my mind began to wonder too much under the blazing sunshine and dusty tracks.
With each punishing climb on a five-speed cassette bloc, (remember those?) comes an equally testing downhill.
The ups provide rasping breath and burning quads while the downs only offer brief relief as you crest the hill, followed quickly by rigor mortis hands and a heart beating slower, but residing in the mouth for the majority of the experience.
It's hard to relax, but it is an exhilarating ride.
You might consider the 75km ride to sound a trifle short. But don't be fooled. It's testing enough for the majority of legs, and I didn't return to Gaiole hungry for more. I was satisfied.
The bike I used was born in the sixties; I guessed this based on the amount of wear the components were showing (a lot).
It was a Capodaglio. A brand I'm unfamiliar with.
In fact there were hundreds of head tubes, each beautiful, and each one new to me. My machine was a loaner, sourced through our hosts Brooks, which started with a knocking headset.That didn't fill me with confidence.
It developed along the way a collection of interesting and quirky sounds as the day passed and the miles increased. I can see why people become attached to these things. It's almost romantic. It had more life and character in it than any bike I've ridden recently. But my distrust of the bike manifested itself in a need to ride very slowly when the road headed downward.
I was cautious on downhills, even before my crash, whether the road was black (asphalt) or white (gravel). But it didn't fail me, and I'm guessing other rent-a-bike riders will enjoy some great future L'Eroica events on it too.
One piece of advice: Bring your favourite saddle. I provided my own, a 1,000 previous miles under a Brooks B17 meant comfort was assured. But judging by the faces of some bike-borrowing riders, others weren't so lucky.
After the best six hours I've ever had on a bike, (although many hours of that were spent off the bike, eating sandwiches) we arrived back in Gaiole in Chainti, not a bad day out for 'only 75kms'.
Recommended? You bet.
Photos supplied by Tino Pohlmann
More from L'Eroica
Thank you for reading 20 articles this month* Join now for unlimited access
Enjoy your first month for just £1 / $1 / €1
*Read 5 free articles per month without a subscription
Join now for unlimited access
Try first month for just £1 / $1 / €1
Get The Leadout Newsletter
The latest race content, interviews, features, reviews and expert buying guides, direct to your inbox!