France en Velo book review
Matt Lamy finds inspiration in a book that charts a coast-to-coast route from the Channel to the Mediterranean through France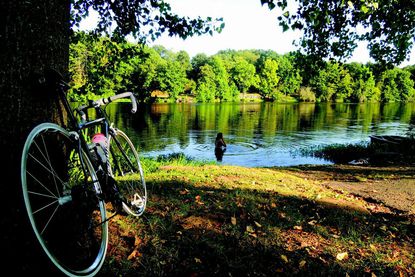 End-to-end riding: it's a fearsome challenge, right? That long and winding road from Land's End to John o' Groats is one of the ultimate tests for a British cyclist. Yet, now it's been done so often it's rather lost its mystique. And what's with all this hardship that seems to go hand-in-hand with LEJOG? Cycling is supposed to be a joy.
Yet there is another, very close, trans-national route that is sheer bliss.
When I was 15, my dad and I decided to cycle from St Malo on the Channel coast to Sète in the Mediterranean. It was one of the great adventures of both our lives as we spent 10 days crossing an entire country by bike. While it was undoubtedly a physical challenge, it was also an incredibly enjoyable experience, seeing a nation and culture metamorphosise as we pedalled on, almost always accompanied by fine views, great cakes, and a healthy supply of cheese, cider and wine.
Quite why more people don't attempt the Channel to the Med by bike has always escaped me. But now there no excuse to ignore this wondrous route with the publication of France En Velo, a fantastic guide book for the aspiring cross-France cycle tourist written by CA's very own Hannah Reynolds and John Walsh.
Twenty years ago the only information resources dad and I could draw upon were limited to the CTC's admittedly impressively accurate route guides, but France En Velo goes beyond being merely an excellent well of important info. As you'd expect there are route directions, places to eat and sleep and helpful advice, but inside you will also find sites of interest along the route and snippets of local history to bring the country alive. Each département is looked at individually, and it's all beautifully presented.
The route that Hannah and John describe is a little longer than the one I rode; we went as the crow flies across France. Instead, with France En Velo you are taken on a true tour of the country, starting in St Malo down to the Loire Valley, on through the rolling hills of the Dordogne, alongside the River Lot, across the Rhone, then in the shadow of Mont Ventoux before finishing in Nice. There are three itineraries offered, ranging from the 10-day challenge to the three-week explorer — or, of course, you could just take on a section of route if you don't fancy the whole way — so it really is perfect for every type of cyclist.
However, what I like most about this book has nothing to do with its clever practicality. Firstly, there's the fact that the bike is shown a catalyst for experiences of interest and enjoyment, not just athletic endeavours. The fact even the flysheet mentions "peaceful river banks", "secluded wild swimming spots", and "picnicking in long sunny afternoons" (not to mention "artisan foods" and "famous vineyards") sums up my memories of our trip, and also reveals the real appeal of coast-to-coast cycle tours.
And finally, there's a wonderfully unique emphasis on appreciating the ever-changing country, something which becomes fascinating once you see it directly from the saddle. A flick through France En Velo's pages provides a taste of how communities and the landscape transform as you head south.
Of course no book can beat doing the ride for real, but France En Velo truly inspires you to want to cross France on your bike. Even for those who have done it once before.
Published by Wild Things Publishing, available at www.franceenvelo.cc, £16.99; 20 per cent discount for readers using code SMNCA1
Thank you for reading 10 articles this month* Join now for unlimited access
Enjoy your first month for just £1 / $1 / €1
*Read 5 free articles per month without a subscription
Join now for unlimited access
Try first month for just £1 / $1 / €1