New 1987 replica steel frame from Battaglin
New frame is a replica of Stephen Roche's 1987 World Championship winning bike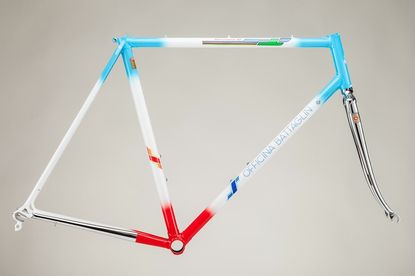 (Image credit: Mirco Vettore)
Officina Battaglin has been celebrating this year. It's thirty years since Stephen Roche's magic year, when he won cyclng's triple crown on a Battaglin bike.
That year, Roche won the Giro d'Italia, Tour de France and the World Championships in Austria. He was only the second rider to do so after Eddy Merckx and no-one has repeated the feat since.
Battaglin has already announced a limited run of 30 Special Edition framesets, complete with three inset diamonds. Now it's launching the 1987, a handmade replica steel frame built to order in a run of 187 pieces.
Battaglin and Columbus have resurrected the steelmaker's famous SLX tubing for the 1897 frame. The material of choice for pro bikes of the 1970s and 80s, Columbus SLX tubing had internal helical reinforcements built into the end of its seat tube and down tube. This provided extra stiffness around the bottom bracket area, where higher stresses occur, so maximising power transfer.
Other features of the replica frame include chromed fork and chainstays and one-piece dropouts with wheel position adjusters. It's also got a one inch straight through headset, Italian threaded bottom bracket shell and external cabling.
Giovanni Battaglin turned 65 last year. He himself was no mean racer, winning the Giro-Vuelta double in 1981 – only the second rider to do so after Eddy Merckx – before establishing his eponymous bike brand.
>>> The 25 most stylish cyclists of all time
In 2014, Officina Battaglin switched from making carbon and alloy frames back to the traditional lugged steel. It's so confident in its steel frames that it offers a million mile warranty against manufacturing defects.
Thank you for reading 5 articles this month* Join now for unlimited access
Enjoy your first month for just £1 / $1 / €1
*Read 5 free articles per month without a subscription
Join now for unlimited access
Try first month for just £1 / $1 / €1