Bkool launches affordably priced One turbo trainer
Bkool's One is its lowest priced trainer but is claimed to provide a realistic ride feel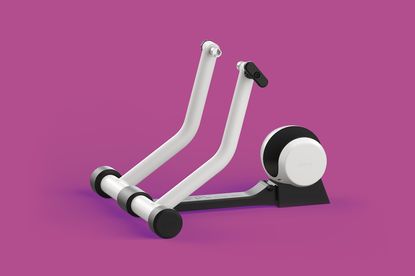 The new Bkool One is a wheel-on trainer weighing just eight kilos and can be folded for easy storage and carrying too. Bkool promotes its gradual resistance curve, in which the resistance offered by the trainer increases automatically with the rider's speed, which it says provides a realistic ride experience comparable to that of high end trainers.
>>> Guide to turbotrainers
It joins Bkool's existing Pro and Classic trainers. The company's innovative sales model allows you to use the trainer free of charge for 30 days before deciding whether to buy and the Pro is available to purchase in twelve instalments.
There's an on-going monthly fee of £6.50 to use the trainer's premium features such as 3D videos of routes, multiple rider use and more advanced analytics, although the basic functions can be accessed for free.
>>> Turbo trainer sessions to improve fitness
Bkool (opens in new tab) claims that the One can just be unpacked and used, without needing any set-up or configuration. The trainer is also claimed to run very quietly, emitting only 64dB at speeds above 30kph and it does not require a power supply, so it can be taken out to a race for warm up and warm down rather than being confined to indoor use.
The price for the new trainer has not been announced, but Bkool says it will be lower than the £488 Pro and the £349 Classic.
Pair the One with a speed or cadence sensor via ANT+ or Bluetooth and training data can be shown through Bkool's simulator. The simulator can also provide riding images for anywhere in the world and superimpose the weather and time of day for the chosen route. It is multi-user compatible so you can ride with your mates too, regardless of where they are at the time.
>>> Zwift trainer game on general release
Bkool's simulator is claimed to work on PCs, Macs and tablets using Android and iOS.
Thank you for reading 5 articles this month* Join now for unlimited access
Enjoy your first month for just £1 / $1 / €1
*Read 5 free articles per month without a subscription
Join now for unlimited access
Try first month for just £1 / $1 / €1