Shimano releases new Dura-Ace disc brake wheels
Disc brake options added for the first time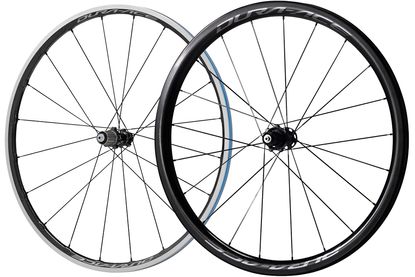 At the same time as revealing its new Dura-Ace groupset, Shimano has also released a number of new of Dura-Ace R9100 wheels, with disc brake options added to top-end range for the first time.
>>> Buyer's guide to road bike wheels (video)
In total the Japanese company has releases nine new wheelsets, with depths of between 60mm and 24mm, with the the deepest 60mm Dura-Ace R9100 C60 wheels apparently saving 16 watts in "real world conditions" (with a 7.5º crosswind on a 25mm tyres when sprinting on a flat road) over the Dura-Ace R9000 C50 wheels that they are replacing.
>>> Will wider rims make you faster?
This improvement is not only thanks to the deeper rim, but to the wider rim, which is now 28mm wide (4mm wider than the current model), meaning a smoother interface between the wheel rim and the tyre when a wider tyre is used. The wheels are also apparently lighter than their predecessors (again despite the wider and deeper rim) with the new tubular C60s weighing 1400g per pair compared to 1442g of the old C50s.
Watch: how much faster are aero wheels?
The Shimano Dura-Ace C60 and C40 wheels are available in four different combinations. There are two carbon disc brake options, tubular and tubeless, both of which come with 12mm thru-axles (an axle standard that Shimano now seems to be set on), and a carbon tubular rim brake wheel that will surely see action in this year's Tour de France. Finally there is a carbon/alloy composite clincher option for those who prefer an aluminium braking surface.
>>> Buy now: Shimano Dura-Ace C50 wheels at Chain Reaction Cycles from £1199.99
The final wheels in the new range are the C24 "training" wheels. These are only available in a single carbon/alloy composite rim brake version.
The wheels will be available in early 2017, although no UK pricing has been set.
Thank you for reading 20 articles this month* Join now for unlimited access
Enjoy your first month for just £1 / $1 / €1
*Read 5 free articles per month without a subscription
Join now for unlimited access
Try first month for just £1 / $1 / €1