Will wider rims make you faster?
As the trend for fatter tyres continues apace, Marc Abbott considers whether wider rims can give you the edge in your next event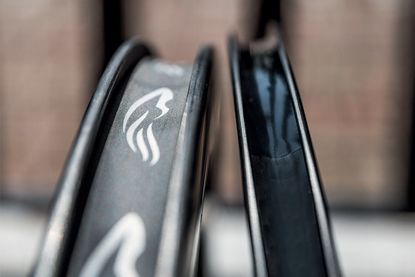 With 25mm tyres fast becoming the standard for even WorldTour race teams, it stands to reason that wheel manufacturers will catch up, creating rims with an internal diameter upwards of 17mm to get the best performance from this new generation of tyres.
>>> Are wider tyres really faster?
But what benefit will we feel from a wider rim on our next sportive, road race or time trial? Is a wider rim purely for the pros? In short, is the investment going to pay dividends in our day-to-day riding?
Simon Smart, aerodynamicist and designer of Enve's SES wheel system, is clear on the matter. "It's counter-intuitive because you'd think that a narrower rim and tyre are faster," he says. "Five years ago, there were a lot of deep-section rims around, but the big problem with them is that they're very unstable in the wind. When I first started designing wheels for Enve, we went wider because with a fatter tyre you can get more camber into the wheel, therefore making it more stable."
>>> Road bike wheels buyer's guide
But will a wider rim diameter help you cut through the air more efficiently? Yes, says Smart: "From an aerodynamics perspective, the reason for going wider, especially on the front, is that you can now run a deeper rim because the airflow stays attached. We're trying to control the flow around the rim so it doesn't detach from it in a crosswind."
Broad front
To our knowledge, Enve is the only manufacturer building wheelsets with the front rim wider than the rear (18.5mm front, 17mm rear). Smart explains why: "There's no drag penalty in going wider on the front because the rim and tyre are in front of the frame. The rear doesn't need to be as wide because it's in what we call a different 'flow condition'."
>>> Are electronic groupsets necessary?
The additional good news is that a wider rim could improve the quality of any ride. Jonathan Day, owner of Strada Wheels, constructs wheels for a living, and believes the greatest benefit is that of increased comfort: "A wider rim increases the volume of air inside a tyre. If you look at a cross-section, an old-school system would look like a mushroom with the sidewall of the tyre flaring out. The new wider systems look more like an upside-down capital 'U'. It's a small increase in air volume, but we do tend to see an advantage when a wider rim is combined with a wider tyre with a higher threads-per-inch count."
>>> Do we need 12-speed gears?
Smart adds: "Wider widths have helped transform the feel of a wheel over the last few years. The ride quality is better; there's better handling and more lateral stiffness. The limitation now is waiting for frame manufacturers to increase the clearance for ever-wider rims and tyres."
Day thinks this added comfort has a knock-on effect on performance: "You might actually go faster because you feel more comfortable. Even for WorldTour teams, the riders are putting in miles of training on a wider rim, and over a three-week race they're feeling more comfortable at the end of each stage."
You might think a wider rim makes for a heavier wheel. However, it depends on the material, says Smart. "When you're working with carbon-fibre you can play about with the laminate," he says. "There's scope to make a wider rim and take some thickness out of the material, so you're not necessarily ending up with a heavier wheel. Obviously this is a little harder to achieve with aluminium rims, though."
Our take
More aerodynamic? Check. Better rider comfort? Check. Little weight disadvantage? Check. To our mind, all that remains is for you to decide if you've the money for new wheels. What we can say with certainty is the best way to future-proof your riding is to go wide with your next wheelset, whether alloy or carbon, regardless of whether you're a racer or an all-day epic kind of rider.
For: Simon Smart, Former F1 aerodynamicist and founder of Smart Aero Technology
"Beyond improving the stability of a wheel, the great win/win is that wider rims and tyres are faster. Five or six years ago the norm was a 21mm tyre; now people are riding a 23 or 25mm. They're more comfortable to ride, and they have lower rolling resistance. Coupled with better stability, going wider on the rim is one of the biggest and best upgrades you can make to your bike that you'll feel, notice and appreciate."
Against: Jonathan Day, owner and director of Strada Wheels
"Run with a 25c tyre at the right pressure, there's a noticeable difference in comfort, but it's definitely more of a comfort gain than a performance gain. We always recommend a pressure setting for our customers, usually based on their weight, as a starting point. It's not really giving a better contact patch or better grip. The patch changes slightly, but I never sell wider rims on an improvement in speed, only on an improvement in comfort — although there's certainly no loss in speed."
Thank you for reading 20 articles this month* Join now for unlimited access
Enjoy your first month for just £1 / $1 / €1
*Read 5 free articles per month without a subscription
Join now for unlimited access
Try first month for just £1 / $1 / €1