Orbea's new e-bike incorporates automotive tech
Spanish brand Orbea says it's borrowed from the automotive and computer industries in the Katu's design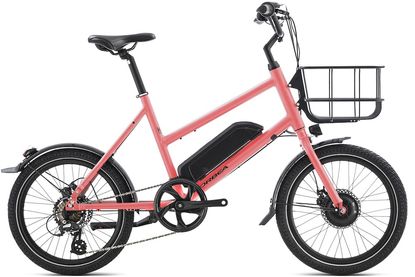 (Image credit: @ J u a n j O t a z u)
Orbea's new £1299 Katu e50 e-bike is designed to provide a fit for purpose e-bike for city users. Orbea uses the metaphor of the four-by-four driver going to the supermarket to buy a couple of items to demonstrate its premise that more is not necessarily better. Its electric motor drives the front hub, but it's the new control unit which Orbea highlights.
Its motor control unit has been developed by Ebikemotion Technologies, who also develop motor control technologies for automotive brands like General Motors, Renault and Honda.
>>> The top five electric bikes of 2017 (video)
The battery comes from a Lenovo group company, who also make batteries for computers and smartphones, while a smart charger is designed to increase the battery's working life. There's a diagnostic app built in which helps identify any problem which develops in use.
Orbea says that it's not an e-bike's power that is important but how much energy the battery delivers, how and when. It says it's designed the motor controller's motor map with different power delivery profiles at different speed ranges to provide three different levels of assistance. There's a pedalling sensor which is mounted inside the bottom bracket and detects pedal movement and determines the amount of assistance required.
>>> Electric bike motors: everything you need to know
In Eco mode, the controller helps when starting up and at low speeds, then as speed increases it prioritises low consumption for battery energy savings.
Comfort mode limits the power of the motor for increased range, but still allowing a powerful start. Orbea says that under normal use conditions a rider of between 65 and 85kg can expect a range of 60 to 70 km over varied terrain.
In Power mode there's support for increased speed, but with controlled delivery.
Watch: Orbea Katu e50 launch video
http://www.youtube.com/watch?v=XkzG0npVNIM
The e-bike can be controlled simply via a Bluetooth remote control with just five buttons and LEDs, avoiding the need for an expensive display screen. There's also a more sophisticated control app available for smartphones.
>>> Seven things I learned from riding an electric bike
Orbea says it's the most advanced app in the e-bike sector and can be operated from the bike controls. It includes Facebook and Twitter integration as well as Strava upload. The Katu includes a USB port to charge up your phone too.
Orbea will also offer an option of a colour screen if you don't ant to use your smartphone as a display.
Thank you for reading 20 articles this month* Join now for unlimited access
Enjoy your first month for just £1 / $1 / €1
*Read 5 free articles per month without a subscription
Join now for unlimited access
Try first month for just £1 / $1 / €1