Seven things I learned from riding an electric bike
Steve Shrubsall got to grips with an electric bike, and here are the seven things he learned from the experience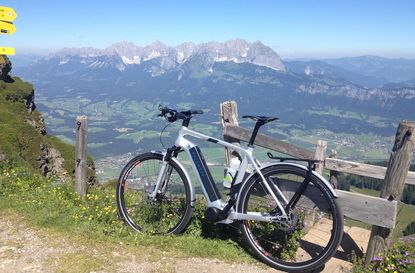 With the advent of electric bikes and the subsequent soaring sales figures, here are seven things you need to know about motorised steeds
1. They're hungry for hills
My local hill-climb is a downright satanic stretch of asphalt. At 0.3 miles in length with an average gradient of 10 per cent, it elicits enough huffing and puffing to level a small village — brick-built constructions included.
>>> How to ride faster up short, steep hills (video)
From my house the road begins to gently rise until half a mile or so later the ascending begins in earnest, and only the most steadfast of physical efforts will see the climb conquered.
I normally reach the top fit to burst: my legs fizz with lactate, my brow rains dense globules of sweat, my heart rate soars into furthest reaches of the red, and I actually feel a little bit tearful.
On the electric bike, however, such sensations are decidedly absent. You could ride up it non-handed while singing 'We didn't start the fire' by Billy Joel; you could master the entire choreographic catalogue of Riverdance; you could phone your great auntie Beryl and have a good natter about the recent chocolate digestive price hike in Aldi.
>>> Four tips to nail any climb (video)
The electric bike snacks on hills for starters and feasts on mountains for the main course — these are, of course, its raison d'etre, and it makes devastatingly easy work of any kind of gradient.
2. Want a cheeky Strava KOM?
Forget it! Despite what you may have read in the papers or heard on the news, mechanical-doping and the use of motorised bicycles is not necessarily conducive to winning races.
>>> I cheated on Strava and got a really amazing KOM
In fact, in a head to head showdown with a hybrid recently, the electric bike — due to its lethargic approach to descents and a stubborn indifference on stretches of level terrain — proved to be something of a damp squib and was left spluttering in a cloud of the hybrid's dust.
Of course, when faced with an ascent it quickly comes into its own, and upon activating Turbo (boost) mode, the bike is quick to meet its top assisted speed of 15mph. Hold onto your hats!
3. Keep it charged!
The average electric bike, you see, invariably registers a reading on the scales not dissimilar to that of a fully grown rhinoceros.
These are indeed weighty beasts. So if you were to find yourself halfway up a hill and that blinking sliver of remaining battery bar suddenly fades into the LCD ether, expect to come to a dramatic halt.
>>> Six things no one ever told you about Shimano Di2
And then, as a result of the sheer heft of these machines, prepare yourself for an impromptu voyage featuring much woe and confusion as the bike begins to roll slowly backwards — brace yourself, this little sub journey is likely to culminate messily in a ditch.
>>> Junior rider Sam Henning has spectacular time trial crash into water-filled ditch (video)
Next, with limbs flailing around like an upturned turtle, all you have to do now is wait for a kindly stranger with a crane and winch to pass by and extract yourself and your steed from the side of the road.
4. Observe the e-cyclist dress code
Where Lycra shorts and their integrated protection pads are a versatile and acceptable item of attire among all cycling circles, the rest of your kit should be chosen carefully before boarding the electric bike.
Squeezing into racing fatigues with the full compliment of aerodynamic bells, whistles and strategically placed pieces of mesh will appear somewhat incongruous, not to mention idiotic, while piloting your power tool around the local cafe loop.
You will be mocked to within an inch of your cycling life; naysayers will surreptitiously photograph you and upload resulting images onto social media with captions like 'look at this soppy tool'.
Avoid this unpleasant eventuality by perhaps sliding on an unassuming pair of slacks and some sensible shoes. Finish the ensemble with a polo shirt, and practise looking nonchalant in the mirror.
Dress right for road riding, unless you're on an e-bike
5. Your mum will want one
Since Brett Wiggins and Chris Vroom have brought biking back to Britain, your mum and dad have been making noises about dusting off the old Dawes and heading into the countryside for an afternoon a-wheel.
>>> "I regret that I didn't train like I did in my 40s earlier in my career" (video)
Make this infinitesimally less likely to be a one-off affair by suggesting this little outing is made on an electric bike.
Yes, you will initially be met with looks of dubiety but after a test run or two your folks will hopefully be smitten, and moderate exercise - sans the effort required to traverse those rotten hills - will become a part of their lives.
>>> It's never too late: taking up racing as a veteran
Indeed mater and pater are perhaps the demographic that electric bike manufacturers are aiming at. Or maybe those who have taken an extended hiatus from cycling - or exercise of any form - and are looking for a way back into the sport in a civilised fashion.
6. You might be able to eke out a century ride
But this obviously depends on how often, and to what degree, you use the motor. Electric bikes generally have several power modes to assist you with the varying terrain of your ride.
>>> Five invaluable tips to help you step up from riding 60 to 100 miles
The KTM, for example, has five options to scroll through:
Off - which, as you may have guessed, means that the motor is, in fact, not on. This obviously means you are free from the shackles of preserving battery life
Economy - this mode is present to give you a little nudge in the right direction. As you may have guessed, Economy is conservative with the battery and could happily assist you for 75 miles or more
Tour - as suggested, this option has been included for protracted stints in the saddle during which you'll share the heavy lifting with the motor. Depending on the terrain, Tour could see you scoot along quite happily for a good 40 miles
Sport - fancy going out for a pacy spin? Pop your e-bike in Sport mode and the rest of the world becomes a blur - but only for around 25-30 miles
Turbo - make a mockery of the Mur de Huy, conquer the Koppenberg, vanquish Mont Ventoux*. Turbo mode munches gradient while you sit back and enjoy the scenery. But, alas, outings made in Turbo will be cursory affairs, and you'd be lucky to meet 15 miles on varying terrain.
*Unless you have 17 spare batteries, do not attempt to summit Ventoux. It will likely end in an airlift.
It's a tough one
7. You can stop and smell the roses
It's very easy when on a normal road bike, even if on a designated 'easy' ride, to incrementally increase the pace until you wind up in a world of acute mental and physical distress.
Of course, there is a place for this kind of suffering, but occasionally it does one good to stop and smell the roses.
>>> What's the next big thing in training?
During a commute on the electric bike I noticed charming woodland snapshots that I had never before taken the time to appreciate; the countryside was no longer merely a backdrop to a pain and suffering show but an intricately woven natural tapestry through which to pedal and enjoy.
The electric bike gives you an opportunity to explore large areas of countryside and really savour the scenery.
Thank you for reading 10 articles this month* Join now for unlimited access
Enjoy your first month for just £1 / $1 / €1
*Read 5 free articles per month without a subscription
Join now for unlimited access
Try first month for just £1 / $1 / €1
Founded in 1891, Cycling Weekly and its team of expert journalists brings cyclists in-depth reviews, extensive coverage of both professional and domestic racing, as well as fitness advice and 'brew a cuppa and put your feet up' features. Cycling Weekly serves its audience across a range of platforms, from good old-fashioned print to online journalism, and video.