Junior rider Sam Henning has spectacular time trial crash into water-filled ditch (video)
Sam Henning over-cooked his time trial run on a corner during the Keizer der Juniores race and ended up submerged in a water-filled ditch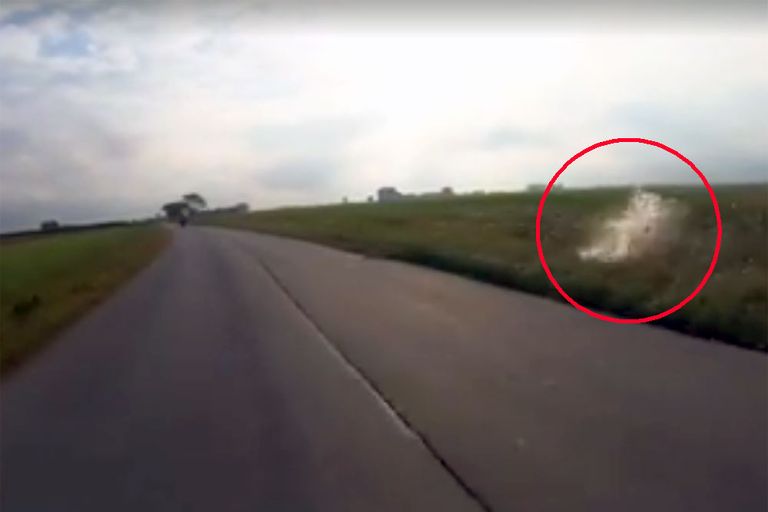 https://www.facebook.com/HMTrra/videos/575599379291865/
The moment that British junior rider Sam Henning ended up in a water-filled ditch during the Keizer der Juniores race in Belgium was captured on camera.
Henning was taking part in the Belgian race's 6km time trial stage on Sunday morning around Wulpen, when he over-shot a corner due to a crosswind and ended up tumbling into the ditch.
Time trial specialist Henning's crash was being filmed from his HMT team's following car and the large splash of water can be clearly seen before he emerges from the drainage channel soaking wet.
>>> Driver confronts cyclists near Richmond Park while filming it on his phone (video)
"Stage two was all right until 3km in, I went around a corner and the crosswind caught my front wheel and put me onto the grass," Henning explained in a video posted to HMT's Facebook page. "I thought I could save it but I went over the handlebars and ended up in a ditch."
Retrieving his bike wasn't so easy, and a member of team staff had to climb into the ditch and go into the water - fully clothed - to get the bike out, which can is covered in weeds.
"As soon as my front wheel went and left the tarmac I went flying into a ditch full of water, big splash. I remember it being black as I was fully submerged in the water. I managed to get out and Matt the mechanic dived in after the bike, he was up to his waist, and I grabbed it out after him."
https://www.youtube.com/watch?v=N6zMlDnQMWo
Despite the soaking, Henning remounted his bike and finished the stage in second from last place but did not start the afternoon's stage.
The Keizer der Juniores took place over Saturday and Sunday, with a road stage on Saturday and a split time trial/road stage on Sunday.
Andreas Kron of Denmark won the race overall with British rider Charlie Meredith (Giant Halo Films) placing sixth overall.