Shimano releases a new Ultegra rear derailleur with mountain biking clutch technology
New Ultegra rear derailleur has mountain biking clutch technology, but does it signal Shimano's one by intent?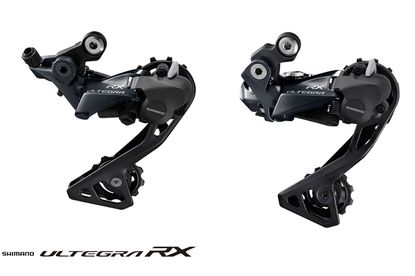 Shimano's road developers have long borrowed from the company's extensive mountain biking technology, including in the launch of both its Dura-Ace and Ultegra groupsets.
But now the brand is launching an updated mechanical and Di2 Ultegra rear mech. It still retains the same mountain biking Shadow technology that moved it closer to the cassette and further out of harm's way, but it also now has a clutch mechanism.
Just like on the Shimano mountain biking groupsets, the clutch mechanism on the RD RX800 and RD RX805 helps tension the chain to keep it in place when riding over rough and lumpy ground. Originally, clutch mechanisms were brought into mountain biking rear derailleurs to help retain chains when companies started speccing one by systems.
What this latest Ultegra rear mech signals about Shimano's one by intentions for the road isn't clear, but the company obviously anticipates gravel and adventure style riding to be hanging around. However, it's not simply a stab in the dark, the company is also launching a new adventure wheelset – but more on that later.
The clutch tensioning system is activated by a switch next to the upper pulley on the rear mech that when flicked tensions the chain in a secure position. Not only does it help keep the chain in place, it also reduces chain slap and helps create a quieter drivechain.
Shimano says the technology is now necessary on the road because of the diversification of riding. It's in direct response to cyclists no longer just riding on roads, but also on gravel and even adventure style riding.
Watch: Tech of the Month April 2018
The new derailleurs are compatible with all Shimano dual control road levers and with cassettes with low gears of 28t through to 34t.
The company doesn't seem to just be testing the water, though. Alongside the new rear derailleur it is also launching a new aluminium tubeless ready wheelset that's disc and wider tyre specific. The WH-RS370 wheelset accommodates 28-38c tyres, has Shimano's E-Thru axles and weighs a claimed 1900g for the pair.
The mechanical Ultegra RX800 will cost £89.99, and the Di2 option will cost £224.99.
Thank you for reading 10 articles this month* Join now for unlimited access
Enjoy your first month for just £1 / $1 / €1
*Read 5 free articles per month without a subscription
Join now for unlimited access
Try first month for just £1 / $1 / €1