Tannus launches new 25mm solid tyre at Eurobike
Puncture-free tyre specialist says that new tyre brings big performance improvements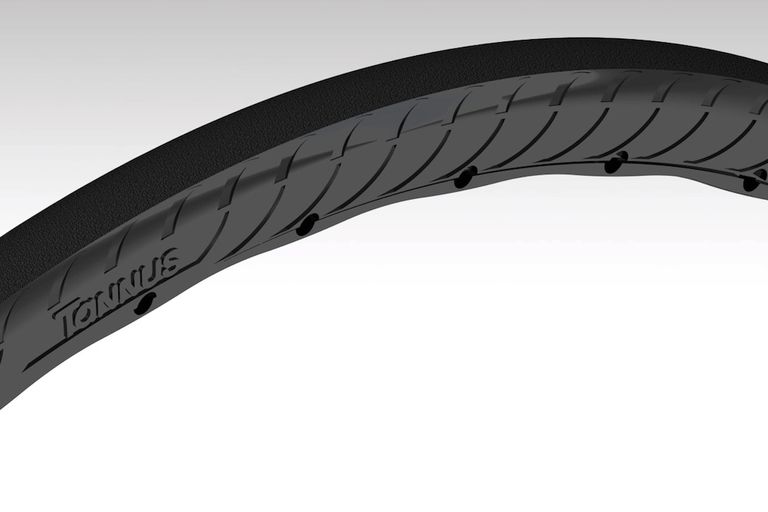 With bike tyres getting wider, 25mm has become the most popular size for tyres. Tannus's new tyre is its first in this size and uses an upgraded version of its Aither 1.1 compound, which it says increases the tyre's flex and ride comfort.
Tannus sponsored triathlete Reece Barclay has been riding the new 25mm tyres around Essex and Hertfordshire for over three months, alongside the older 23mm model.
>>> Are wider tyres faster?
He says that he prefers the new 25mm tyres, for their added cushioning and ride comfort, with no obvious speed difference. "Vibration is massively reduced with the new tyres. They are a very smooth ride. The grip is as good as ever and overall they've been working really well," he says.
>>> Specialized gets behind solid tyres in collaboration with Tannus
Tannus has been developing the new tyre for over two years at its headquarters in South Korea, testing different tread patterns both in Korea and in the UK last winter. According to Youngki Lee, Tannus chief executive, "the 25c is the most difficult tyre we have developed. The new tyre is faster than the 23C and smoother than the 28C. This is without doubt our best tyre ever."
Tannus says that the new tyre is designed to be used as a training tyre on a road bike, but it's also a good bet for sportives and for commuting. It expects to start mass production of the new tyre in the next couple of months, with plans to launch it ahead of Eurobike at the end of August.
We've had a set of the new 25mm tyres on test for a few weeks here at Cycling Weekly. Their grip is impressive both in the dry and in wet conditions, and better than many top-branded pneumatic tyres. But the density of the tyre compound is equivalent to around 115psi in a pneumatic, which is a bit firm for a 25mm tyre on typical UK road surfaces.