The tech behind Bradley Wiggins's Hour Record success
To break the hour record involves more than just supreme fitness. We take a look at the tech which helped Sir Bradley Wiggins break the record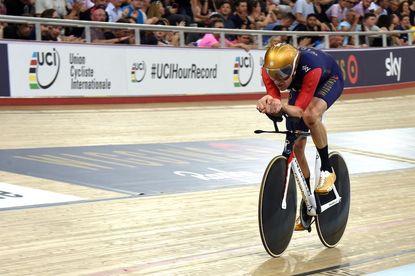 (Image credit: Watson)
We previously reported on Bradley Wiggins Pinarello Bolide, which he would ride in the Hour Record. Here we take a look at some of the other tech details, that were crucial to his record. Climate is crucial for the Hour, with hotter air enabling riders to go faster.
Wiggins's support team had a tough task of getting the temperature just right. They had to account for the temperature rising when 6000 spectators enter the velodrome, with the temperature reported to settle at a stifling 30ºC.
Pedals
We first spotted Wiggins's new Speedplay Zero Aero pedals/cleats in his attempt at the British 10-mile time trial record. As predicted, he was using them in the Hour Record too. The Zero Aero differs from other Speedplay pedals by being single sided. When the single-sided pedal is clipped in, the dimples on the bottom create an aerodynamic profile that integrates with the cleat, which also features dimples.
Saddle
Being sat in the same time trial position for an hour means that saddle choice is crucial, if you intend to still be able to have kids after the Hour Record.
Wiggins opted for a Fizik Arione K3, a saddle which he has favoured on the road this year. Having previously used the standard Arione, he appears to have embraced the K3, which is a more padded version originally developed for triathletes. It's also been a popular choice with Geraint Thomas and Richie Porte.
Shoes
Under UCI rules, shoe covers are not allowed for the hour record and track riding. Wiggins wore a pair of lace-up, customised Giro Empire SLX shoes. The shoes were gold, befitting the Olympic champion and featured 'Wiggins' branding on the Easton soles. Having tested the standard Giro Empire SLX we can vouch for their low weight supreme stiffness. Without ratchets, the Giro Empire shoes are claimed to be fairly aerodynamic too.
>>> Buyers guide to shoes
Gearing
On a track bike you only have one gear, so picking the right one is crucial for the hour. A larger gear will mean a slower cadence and the risk of muscles getting too tired towards the end. A smaller gear will allow you to spin a higher cadence, but can potentially limit the rider, if they are feeling better than expected. Wiggins opted for a 58t front ring and 14t rear for the hour.
>>> Road bike groupsets buyers guide
Clothing
A immediate statement of intent was Wiggins lack of beard. Forever in the hunt for marginal gains and aerodynamics, function was seen to trump fashion for the Hour.
Also worth noting is the perfect fit of custom Rapha Skin suit worn by the World TT champion. The long sleeves and shorts offer improved aerodynamics, as the special textiles used offer less drag over skin. The long socks are also worn to reduce drag over the lower leg too.
>>> Specialized shows how shaving can shave seconds
Helmet
Although not confirmed, we believe that the helmet Wiggins was wearing was the UKSI Aero helmet, as worn by the GB Track cycling team. One of the products developed by the so called 'Secret Squirrel Club.'
>>> Buyers guide to road bike helmets
Wheels
Disc wheels offer a significant aerodynamic advantage. Of late, the disc wheel of choice has been the Light Weight Autobahn. Wiggins appeared to be riding the UKSI disc wheels (opens in new tab), made from lenticular carbon with low friction ball bearings.
Bradley Wiggin's time trial minute man
Thank you for reading 10 articles this month* Join now for unlimited access
Enjoy your first month for just £1 / $1 / €1
*Read 5 free articles per month without a subscription
Join now for unlimited access
Try first month for just £1 / $1 / €1
Oliver Bridgewood - no, Doctor Oliver Bridgewood - is a PhD Chemist who discovered a love of cycling. He enjoys racing time trials, hill climbs, road races and criteriums. During his time at Cycling Weekly, he worked predominantly within the tech team, also utilising his science background to produce insightful fitness articles, before moving to an entirely video-focused role heading up the Cycling Weekly YouTube channel, where his feature-length documentary 'Project 49' was his crowning glory.