Zipp launches new Super 9 disc brake disc wheel
The world's first disc wheel designed for disc brakes has been launched by American wheel brand Zipp.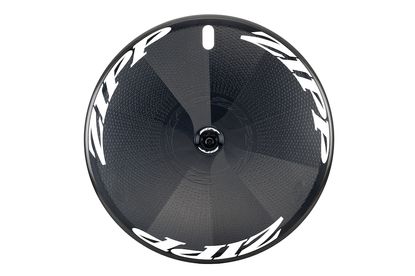 (Image credit: (c)2014 Joe Vondersaar)
The likely hood is that you do not currently own a time trial bike with disc brakes, as at present, the only one we can think of is the new Parlee TT bike launched this week.
However, we fully expect that more bikes will be launched over the coming year, and Zipp have prepared for this with the launch of the Super 9 Disc-brake Disc. Owing to complex cable routing and heavy integration, braking on time trial bikes is often poor.
>>> Buyer's guide to road bike wheels
While many would argue that if you braking in a time trial, you are doing it wrong, there is no debate, that braking performance is crucial on technical courses, especially those with descents. Followers of F1 will testify, if you can brake later, you can go faster for longer.
The disc brake versions of the Super-9 disc, 1175grams for the Carbon Clincher and 995 grams for the Tubular, retain the light weight of their rim-brake counterparts.
>>> How much speed can you buy (video)
Although Zipp is starting to release some tubeless ready wheels into its range, the clincher version of the Super 9 is not yet tubeless compatible. The shape of the disc is retained from the non disc brake version too, with the same flat profile and dimpled surface.
Video: How much faster is a tt disc wheel?
Some details and technical specs for the Clincher and Tubular version are as follows:
177DD hub
26.46mm brake track width (center - carbon clincher)
26.73mm brake track width (center - tubular)
27.5mm max width
17.25mm clincher bead width (carbon clincher)
21.5mm nominal tire bed width (tubular)
125psi max tire pressure (carbon clincher)
8.62bars max tire pressure (carbon clincher)
10/11-speed compatible hub
>>> The UCI Suspends the use of disc brakes
The retail price for the carbon clincher is set to e £1987 and £1736 for the tubular version, while vailability is planned to be September 2016
Zipp has also launched a new 202 NSW rim to complete the NSW line, along with the existing 303, 404 and 808 NSW wheels. The 202 NSW will only be available in a clincher version though, with Zipp citing that it didn't feel there was enough demand for a tubeless version.
The 202 NSW will retail at £2369, with availability from October. The weight is a claimed 1390g a pair, with the wheels using the same technology and cognition hubset found on other NSW wheels.
The other big news from Zipp is the launch of disc brake specific 303 Firecrest wheels. The rims are now disc brake specific, with no brake track, which has allowed engineers to make the wheel lighter and with more dipples.
The Firecrest 303 Disc Brake rim is also tubeless ready. The retail price is set to be £2027 a pair, with availability in December.
In the mean time, for more information on the new products, head over to Zipp.
Thank you for reading 20 articles this month* Join now for unlimited access
Enjoy your first month for just £1 / $1 / €1
*Read 5 free articles per month without a subscription
Join now for unlimited access
Try first month for just £1 / $1 / €1