Zwift tease the arrival of New York course
The indoor training season is upon us and Zwift have something new in the works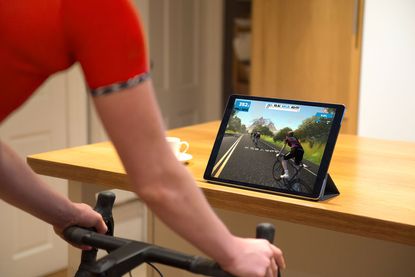 The evenings are drawing in and the roads are taking just a bit too long to dry, which means indoor training season is here.
As we all prepare to break out the turbo trainers, put the summer bikes into storage and reluctantly plan gym sessions, Zwift have been working on something new.
The indoor training experts will soon be releasing the latest location for their social media-meets-smart trainer software.
New York is the newest option to be added to the growing list of scenery and Zwift have teased some of the details.
So far we know the new course will include 24,945metres of new roads, 498 sycamore trees, 506 lamp posts, 10 new cycle routes , 13 running routes, 389 elevation metres and 28 hot dog stands.
>>> Zwift: Everything you need to know
But the one thing Zwift have not revealed is the release date.
The teaser video ends with "coming soon."
Earlier this year, Zwift launched a new Innsbruck course ahead of the 2018 UCI World Championships.
That brought the total number of courses up to four – Innsbruck, London, Richmond and Watopia.
Zwift is a turbo trainer game that enables you to link you turbo trainer up your computer, iPad, iPhone or Apple TV, letting you ride with other cyclists in a virtual environment, therefore helping to alleviate some of the boredom associated with indoor riding.
As well as competing against others riders in Zwift racers, those seeking specific training sessions can access workouts designed by professional coaches, and these can be completed in groups with riders completing efforts at the same intensity based on a percentage of their FTP.
Thank you for reading 5 articles this month* Join now for unlimited access
Enjoy your first month for just £1 / $1 / €1
*Read 5 free articles per month without a subscription
Join now for unlimited access
Try first month for just £1 / $1 / €1