There are 23 days until Paris-Roubaix and this is what some of the cobbled sectors look like
Volunteers work feverishly to prepare the cobbles for the Hell of the North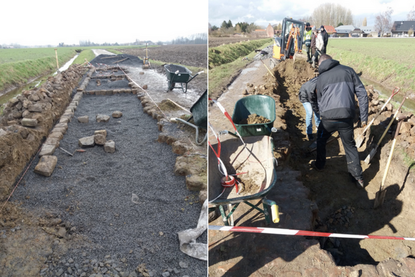 While the eyes of the cycling world turn to Italy and Milan-San Remo, work is still being feverishly carried out to prepare the cobbles of Paris-Roubaix for the denouement of the Classics season.
The race's 29 sectors of cobbles are maintained by Les Amis de Paris-Roubaix (The Friends of Paris-Roubaix), who carry out work on the pavé to ensure that it is in a good enough state to be raced on in April.
This week the volunteers have been working on the Pont-Thibaut to Ennevelin sector, the ninth from last in the race which the riders will cover with more than 215km in their legs.
From the looks of photos posted online by Les Amis de Paris-Roubaix, the works seem to be fairly extensive, with much of the sector being dug up and a new surface laid underneath, presumably in an attempt to improve drainage and reduce the chances of the sector becoming water-logged if the course is hit with heavy rain and the race run in wet conditions for the first time since 2002.
Since the snow melted a couple of weeks ago, the volunteers have also completed work on the sectors of Tilloy to Sars-et-Rosières and Warlaing to Brillon, which will not only be used in Paris-Roubaix in April, but will also feature in a tricky stage nine of the Tour de France in July.
>>> Paris-Roubaix 2018 start list: Teams announced for Hell of the North
Les Amis de Paris-Roubaix has thousands of members around the world having been set up in the 1980s to maintain the character of Paris-Roubaix after many other races had moved from using cobbled roads to smoother tarmacked roads.
The association works with local authorities to maintain the cobbled sectors, which are often just used by agricultural vehicles travelling between fields for the rest of the year.
Thank you for reading 20 articles this month* Join now for unlimited access
Enjoy your first month for just £1 / $1 / €1
*Read 5 free articles per month without a subscription
Join now for unlimited access
Try first month for just £1 / $1 / €1