British Cycling rejected application for Women's Tour to expand to seven days
Minutes from a British Cycling Board Meeting reveal that the governing body didn't favour an expansion to Britain's premier women's race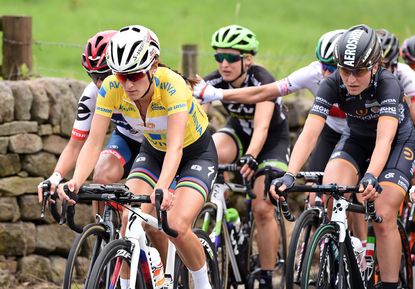 (Image credit: Andy Jones)
As this year's Women's Tour wound up in Kettering last June, rumours the race would be extended to seven days began to circulate around press and peloton alike. However, the 2017 Women's WorldTour calendar, published by the UCI earlier this month, reveals next year's event will, like the three previous editions, consist of only five stages.
Organisers Sweetspot have confirmed to Cycling Weekly that they did indeed ask for an extension, but that British Cycling rejected their application. We also understand the UCI had indicated they were happy to approve such an extension.
>>> Full Ardennes Classics week among highlights of Women's WorldTour 2017 calendar
The race was discussed at British Cycling's Board Meeting held on June 29th at the federation's Manchester headquarters. Earlier this month minutes of that meeting were published on their website.
Those minutes state: "The new London Mayor has stated an ambition to host "the Women's Tour" next year and date restrictions have led Sweetspot to suggest that the event needs to be increased to seven days, starting in London on a Sunday."
As in previous years, the 2017 event begins on a Wednesday, so the London start now appears highly unlikely. BC said it would have allowed the race to extend to seven days for one year only, to "strengthen our relationship with TfL [Transport for London]", and indicated it would have needed a strong presence at the event.
The minutes further state, "… it was agreed that the preference would be for the event to remain at five days as it fits with the UCI objective to have a strong calendar of five day Women's events, and to investigate finishing the event in London on a Sunday. Should this be impossible, it was agreed to move to a seven day event, for one year only…"
The race has been hugely successful since its inception in 2014, with massive roadside crowds and television highlights each evening. Indeed, perhaps the only thing missing from the race was live television coverage, something Sweetspot are keen to deliver for future years, and something which may have been more likely with a seven day event.
Race organiser, Guy Elliott, told Cycling Weekly: "We have been granted five days for next year and obviously we're pleased. It's well established and we're happy that we will have a really great race next year. But we are disappointed that we aren't being granted the seven days we applied for.
"I don't know why they [British Cycling] have not supported the extension," Elliott concluded.
A clue may be found in the meeting minutes which state, "… a strategy needs to be developed to ensure that there is a long term ambition to move towards a high quality national women's tour." This raises questions about the federation's long term intentions, as such an event already exists in the form of the Women's Tour.
In 2012 British Cycling put the organisation of the men's race, the Tour of Britain out to tender, despite it having been organised by Sweetspot since they successfully relaunched the event in 2004 following a hiatus of four years.
On October 20th CW approached British Cycling for clarification on their stance. The following day BC told us they were preparing a statement. That statement has not yet been received.
This year's third edition of the Women's Tour, with its undulating route though England's midlands, was won by Lizzie Deignan (Boels-Dolmans) and widely regarded as the best edition to date.
Finishing in Stratford Upon Avon, Chesterfield and Stoke respectively, the middle three stages in particular provided entertaining and aggressive racing. Riders have consistently praised the event as one of the best organised on their calendar.
Next year's Women's Tour runs between Wednesday 7 and Sunday 11 June. Stage details are not yet known.
Thank you for reading 20 articles this month* Join now for unlimited access
Enjoy your first month for just £1 / $1 / €1
*Read 5 free articles per month without a subscription
Join now for unlimited access
Try first month for just £1 / $1 / €1