Great Britain team for cyclo-cross World Championships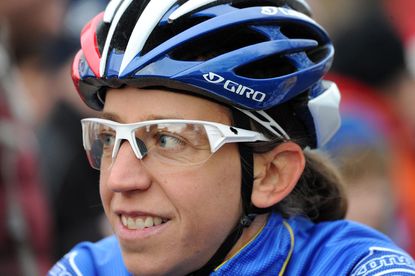 British Cycling has named the 14 riders that will represent Great Britain at the 2014 cyclo-cross World Championships in Hoogerheide, Netherlands, over February 1-2.
Newly-re-crowned British cyclo-cross national champion Helen Wyman, Nikki Harris, Gabriella Durrin and Hannah Payton make up the extremely strong elite women's line-up which has every chance of scoring a medal, if not the rainbow jersey.
World Cup regular and British national champion Ian Field is joined by David Fletcher in the men's elite race, with Jack Clarkson, Steven James, Adam Martin and Ben Sumner riding in the under-23 men's race.
"We're heading out to Hoogerheide with a squad of riders, the majority of whom have raced cyclo-cross internationally this season - in the younger categories," said Great Britain team manager Phil Dixon.
"This is something we have introduced this year for the Great Britain Cyclo-Cross Development Programme, and it will be interesting to see how this sets them up at the worlds.
"We have some real experience in the riders selected for the elite races, and the elite women remain at the top of the world ranking for the second year running.
"In particular Helen Wyman is coming into form after her early season win in the European season.
"Overall, I believe we have some exciting prospects for this year's world championships and the team are looking forward to racing at the event."
British junior national champion Thomas Craig - son of veteran off-roader Nick Craig - takes part in the junior men's event with Sean Dunlea, Dylan Keerfoot-Robson and Jack Ravenscroft.
Great Britain team for 2014 cyclo-cross World Championshsips
Elite men
Ian Field
Dave Fletcher
Elite women
Gabriella Durrin
Nikki Harris
Hannah Payton
Helen Wyman
Under-23 men
Jack Clarkson
Steven James
Adam Martin
Ben Sumner
Junior men
Thomas Craig
Sean Dunlea
Dylan Keerfoot-Robson
Jack Ravenscroft
Related links
Ian Field and Helen Wyman crowned British cyclo-cross champions
Thank you for reading 5 articles this month* Join now for unlimited access
Enjoy your first month for just £1 / $1 / €1
*Read 5 free articles per month without a subscription
Join now for unlimited access
Try first month for just £1 / $1 / €1