Jasmijn Muller takes National 12 Hour Championship by just 193 metres
The men's race had a clear winner, but the women's was a close run thing and was initially called as a dead heat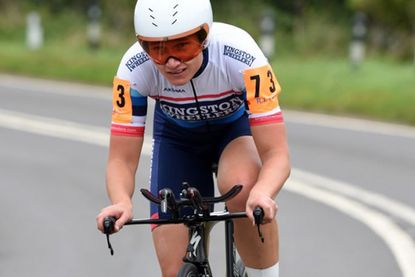 Jasmijn Muller (Paceline RT) and Robin Townsend (Team Swift) were crowned National 12-Hour Champions at a hotly-contested title race in Shropshire on Sunday.
Robin Townsend (Team Swift) was a convincing winner in the men's race clocking 291.56 miles for the D12/1 course near Prees.
But the women's race was a close-run thing, with Muller initially being told she had tied with Jill Wilkinson (Chester RC) until a recount revealed an error. Muller had covered 256.41, which was just 0.12 miles more than her rival.
Townsend was around seven minutes ahead of his nearest rival at the 100-mile mark, and maintained his effort to win by almost nine miles from Neil Skellern (Team Swift), with Mark Turnbull (Torq Performance) third.
>>> Hayley Simmonds sets new 10-mile time trial record
Wilkinson and Muller played cat and mouse throughout the day with the lead changing hands. At the 100-mile mark Muller led by almost eight minutes, and at one point Wilkinson was actually overtaken by Muller who had set off ten minutes after.
But Wilkinson dug deep and had the better of the final few hours, catching up with her rival in the last few miles, only to fall agonisingly short.
Muller said afterwards: "Before this I thought I was super woman, now I know I'm not! I'm very happy with today's ride, I prefer the longer distance events – it makes it worthwhile coming out for the day."
>>> "It wasn't the usual TTT": Riders react to Vuelta a España stage one
Meanwhile, Wilkinson said: "I got to the second to last timekeeper behind Jasmijn, but by the final timekeeper I thought I was in front of her. I came here hoping for the win but it was a pretty brutal 12. The weather was bad and it was hilly, the course didn't suit me at all with so many undulating drags."
Meanwhile, men's winner Townsend – who was a part of the Team Swift outfit which won the 2014 British Best All-Rounder (BBAR) – said: "I'm getting too old for this! I'm too light and too small, and I was getting blown about. Then they told me I had ten minutes' lead, and that put the pressure on me."
National 12 Hour Championship result:
Men:
1. Robin Townsend (Team Swift) 291.56 miles
2. Nick Skellern (Congleton CC) 282.84
3. Mark Turnbull (Torq Performance) 280.50
Women:
1. Jasmijn Muller (Paceline RT) 256.41 miles
2. Jill Wilkinson (Chester RC) 256.29
3. Crystal Spearman (Nopinz) 243.81
Thank you for reading 10 articles this month* Join now for unlimited access
Enjoy your first month for just £1 / $1 / €1
*Read 5 free articles per month without a subscription
Join now for unlimited access
Try first month for just £1 / $1 / €1
Snowdon Sports is a long-established independent sports news agency, which supplies editorial to a range of media outlets - such as Cycling Weekly - as well as sports governing bodies. Snowdon Sports often covers results at Cycling Time Trials events in the UK and has long been a source of information and imagery to Cycling Weekly.