Hayley Simmonds sets new 10-mile time trial record
Hayley Simmonds beats Julia Shaw's previous record for 10 miles by one second in East Yorkshire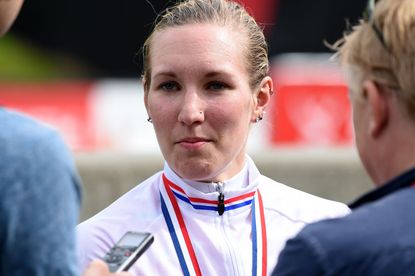 (Image credit: Andy Jones)
Just a week after clinching her first National 25-mile title, Hayley Simmonds broke the national competition record over ten miles in East Yorkshire on Saturday afternoon.
The 27-year-old from Cambridge clocked 19.46 in the Bridlington CC 10 on the popular V718 course near South Cave, slicing just one second from Julia Shaw's three-year-old record.
But the record could've gone even lower, with conditions far from perfect.
"The wind felt relatively OK when I got to the headquarters, but when I was riding it was stronger than I thought," said Simmonds, who is also the national 100 and British Time Trial Champion.
"I've been training hard for the last couple of weeks and felt a bit tired. I took it relatively easy on Thursday and Friday so the rest obviously did me some good.
>>> Hayley Simmonds claims National Time Trial title
"Because of my other commitments with road racing and going abroad I hadn't had chance to travel to fast courses until now, and this is my only visit to the V718 this season. Luckily it was a good enough day, although people were saying it can be a lot better!
"I only realised I had got the record back at headquarters. I was standing around waiting for the times to go up on the board to find out if I had the record, and I was replaying scenarios in my mind and starting to doubt my performance!
"I only took one second off Julia's record, so the record isn't 'on the shelf' - it would be nice to take a bit more off and have it for a few years."
Video: how much faster is an aero bike?
Thank you for reading 20 articles this month* Join now for unlimited access
Enjoy your first month for just £1 / $1 / €1
*Read 5 free articles per month without a subscription
Join now for unlimited access
Try first month for just £1 / $1 / €1