Matt Bottrill on flying form ahead of British time trial championships
British time trial round-up (June 14-15): News and results from around the UK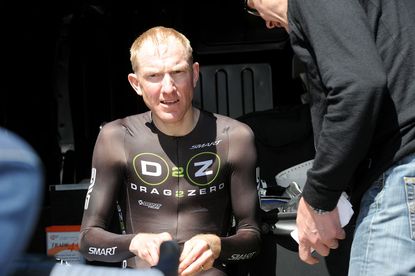 (Image credit: Andy Jones)
Ten days before going for glory in the British Time Trial Championships, in-form Matt Bottrill (Drag2zero.com) butchered another course record when he won the Mercia CC 25 on Sunday.
The 36-year-old from Coalville clocked 47-59 to slash 1-08 from Stuart Dangerfield's old course record for the K16/25 near Fradley in Staffordshire. He pushed Matt Sinclair (Lutterworth Cycle Centre) into second spot by more than four minutes.
He said afterwards: "I'm really pleased. To be honest my legs felt battered at the start; the training this week has been so intense, but I got stronger as the race went on.
"With just 10 days before the British Champs I know I've done everything I can with the amount of time I have to train and prepare."
Third spot went to Scott Westwood with 52-40, and he led Walsall RCC to the team prize, while Kerry Parton (RAF CC) was fastest female.
Elsewhere, Team Swift's Joel Wainman won the Lincolnshire RRA 50 at Osbournby in 1-48-10, more than five minutes quicker than his nearest rival Jim Boyle (Cherry Valley RT).
Matt Clinton (Mike Vaughan Cycles) bagged a 40-second personal best when he won the Hemel Hempstead CC 10 at Aston Clinton, Buckinghamshire on Saturday.
His time of 18-40 gave him the win by 24 seconds from Rob Pears (Pro Cycling Magazine), while newly-crowned National 50 champion Hayley Simmonds (Velosport Pasta Montegrappa) was best woman with 21-02.
There was a close battle for victory in the Janus RC 25 at Goostrey in Cheshire on Saturday, with Matt Brammeier (Synergy Baku) clocking 52-02 to win by just three seconds from prolific veteran Andy Wilkinson (Port Sunlight Wheelers).
And in the Northampton and District CA 15, Brett Harwood (Terry Wright Cycles) clocked 32-14 and was quickest by just over a minute from James Stewart (Bonito Squadra Corse), while Stewart's team-mates at Bonito, Sarah Short and Clare Simon were locked in a battle for the women's prize, with Short winning by five seconds with 39-01.
In East Yorkshire, Stewart Pickard (Bridlington CC) was victorious by just two seconds in the Yorkshire Coast Clarion 20.3-mile hilly TT at Grindale. He held off Huddersfield Star Wheelers' Andrew Pearson for the win, while another Bridlington rider, Andrew Askwith, was third.
And in North Yorkshire, Keith Murray (Ferryhill Wheelers) was victorious in Darlington CC's 25-mile event, using the new T254 course at Bedale.
He clocked 53-31 to take the win by 1-03 from Paul Thirling of Stockton Wheelers, while Andy Fuller (GS Metro) was third, another minute and a half back.
British road race round-up (June 14-15): News and results from around the UK
Thank you for reading 20 articles this month* Join now for unlimited access
Enjoy your first month for just £1 / $1 / €1
*Read 5 free articles per month without a subscription
Join now for unlimited access
Try first month for just £1 / $1 / €1