Michael Hutchinson wins Whitewebbs CC 10
British time trial round-up (July 5-6): News and results from around the UK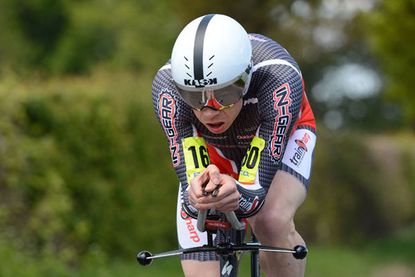 Multiple national title and record holder, Michael Hutchinson (In Gear-Quickvit RT) clocked an impressive 18-39 to win the Whitewebbs CC 10 at Great Amwell in Hertfordshire on Saturday.
His time was good enough to take victory by 16 seconds, with Jason Boutell (VeloVelocity) clocking 18-55 for second while Mark Jones (Drag2zero.com) third, another 30 seconds back.
Over 25 miles there were equally impressive times, with National 50-mile record holder Matt Bottrill (Drag2zero.com) winning the Belper Road Club's 25-miler event on the Etwall to Uttoxeter course in 46-55 to win by 1-45 against a quality field.
Bottrill, who is preparing for the National 25 Championships in four weeks, was head and shoulders above his rivals, with Charles Taylor (South Pennine RC) second in 48-40 and Brett Harwood (Terry Wright Cycles) third, another seconds back.
In Warwickshire, Matt Clinton (Mike Vaughan Cycles) won the Coventry CC 25 at Princethorpe in 49-06, which was exactly two minutes quicker than his nearest rival, James Ratcliffe (Fred Williams RT), while Jon Simpkins (Drag2zero.com) third, with 52-23.
Keiron Davies (Team NBCC) clocked what is believed to be the second fastest time ever for the R25/17 course in Wales when he won the Cardiff 100 Miles RC 25-mile event on the Usk to Monmouth course.
He clocked 48-57 to take the win by 1-09 from runner-up Scott Davies, the Madison-Genesis rider who won the Under-23 crown at the British Time Trial Championships in Wales a couple of weeks ago.
Candence RT riders enjoyed a good day, with Ben Anstie finishing third overall with 51-23, while Lowena Smith clocked 1-03-26 to win the women's prize.
Rob Young (Team Vision Racing) was fastest in the Veterans TTA East Anglia 25 at Newmarket, clocking 50-20 to beat prolific TT winner Mark Arnold (CC Desiragear) by 39 seconds.
Peter Balls (St Ives CC) took third with 51-21, while Helen Reynolds (Hemel Hempstead CC) was best veteran on standard with a plus on 18-13, having covered the course in 1-13-02.
Chris Mcnamara (Pedal Heaven) won the Redhill CC 14 in Surrey, clocking 32-35 to win by 24 seconds from Daniel McCarthy (VC Meudon), while Jasmijn Muller (Kingston Wheelers) was best female with 36-33.
And in the Richmond Park TT races in London, Rob Sharland (Kingston Wheelers) was fastest man on a TT bike with 23-19 for the 10.4-mile course, while Rebecca Slack (Look Mum No Hands) was fastest female on a TT bike with 25-49.
The road bike prizes for the same event went to Jamie Francis (London Dynamo) and Clare Gillott (Les FIlles RT) with 24-27 and 29-12 respectively.
Christian Yates (East Grinstead CC) won the South Eastern RC 10 by 44 seconds, his time of 21-26 pushing Damian Poulter (Hounslow and District Wheelers) into second and Marcus Edwards (Kingston Phoenix) third, just three seconds further back.
Thank you for reading 20 articles this month* Join now for unlimited access
Enjoy your first month for just £1 / $1 / €1
*Read 5 free articles per month without a subscription
Join now for unlimited access
Try first month for just £1 / $1 / €1