Node4-Giordana continues in 2014 as Velosure-Giordana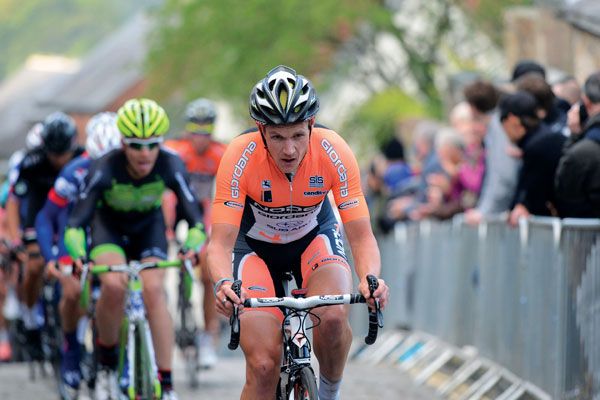 Distinctive day-glo orange will remain in the British peloton next season, since Phil Griffiths announced this week that he would continue to sponsor a team in 2014.
The Velosure-Giordana team, which has come together over the past fortnight, takes advantage of the demise of UK Youth and IG-Sigma at the end of last season.
Five key signings join new sponsor Velosure on the UCI Continental squad: AnPost Ras winner Marcin Bialoblocki and team-mate Rob Partridge make the move from Tour-Series-winning UK Youth, while James Moss, George Harper and Matt Cronshaw come from IG-Sigma.
"It's my passion," said Griffiths of his team. "I'm enjoying a very good life off the back of cycling; if I can't put something back into the sport and encourage businesses to [invest], then it's time to chuck it in."
Kiwi sprinter Roman Van Uden is all but certain to remain with the team; however, he will be without his four countrymen from last season. GP Wales winner Mike Northey has joined Madison-Genesis while James Williamson, Dan Barry and Shem Rodger have returned to New Zealand.
"We expected big things of them but I think it takes a year just to settle down and get used to a new style of racing and living away from home and all the trappings that go with it," said DS Bill Nickson. Nickson takes over main DS duties from Malcolm Elliott, the former Vuelta points jersey winner, who is taking on more duties within Griffiths's company Yellow.
"Roman [Van Uden] wants to come back and finish off some unfinished business," Nickson added. "We're just going to have a good time and enjoy ourselves."
Despite the disappearance of several sponsors from the British scene (CW, November 28), Griffiths dismissed the notion that businesses are unwilling to put money into British teams.
"Whatever I ask for, cycling is well received. It doesn't get laughed at," he said. "The biggest problem isn't lack of sponsors or sponsorship money, it's coordinating it with UCI and British Cycling, who are working on a different timescale to boardrooms. The difficulty is matching it up.
"The [next] biggest problem is [not having] enough people like me with the time and energy to nail it to the mast. That is the problem."
Also known as
Velosure-Giordana owner Phil Griffiths has been sponsoring a cycling team of one form or another since 1976, when GS Strada hit the road, later boasting the likes of Ian Cammish, Kevin Dawson and Chris Boardman.
Griffiths also managed the ANC-Halfords team between 1985 and 1987, when it rode the Tour de France. Former ANC rider Malcolm Elliott made his return to cycling aged 41 in 2003 under the Pinarello team. That team morphed into CandiTV-Marshalls Pasta with star rider Russell Downing, Motorpoint-Marshalls Pasta and Motorpoint before becoming Node4-Giordana in 2012.
This article was first published in the December 21 issue of Cycling Weekly. Read Cycling Weekly magazine on the day of release where ever you are in the world International digital edition, UK digital edition. And if you like us, rate us!