Can a rider peak for two Grand Tours in a row?
Insiders say that attempting to win the Giro d'Italia and Tour de France in one season might not be possible for most riders, but if anyone can do it Chris Froome can.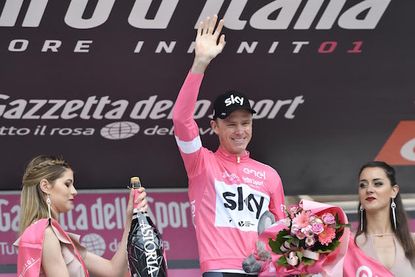 (Image credit: Yuzuru Sunada)
Peaking to win both the Giro d'Italia and Tour de France is "not recommend" given the different physical demands of the Italian stage race and teams' specialised training, say insiders.
Italian Marco Pantani last completed the Giro/Tour double 20 years ago in 1998. Since then everyone has failed, including Alberto Contador and Nairo Quintana in recent year.
Chris Froome is trying in 2018 on the heels of winning the 2017 Tour and the Vuelta a España.
"None of our riders are doing it," said Mitchelton-Scott sports director Matt White. "So I clearly am not recommending it. No one in the modern era of cycling have archived it, 1998 was a completely different era.
"Guys have been successful in both, but being successful and winning it are two different things. Going from the Tour to the Vuelta more achievable because the Vuelta is a different level of stress.
"But the Giro is the physically most demanding of the three tours. And you also have the aspect that it's May. You are exposed to allergies, extreme temperature changes from 30 to five degrees. That puts a big stress on the body and how you back it up for the Tour."
>>> Five talking points from stage 18 of the Giro d'Italia
Speaking ahead of the start of stage 18 of the Giro, White looked over at the Team Sky bus which was parked next to his, watching Froome climbing onto his bike a ride off to sign on in Venaria Realia.
"This year you have an extra week with the football World Cup," White added, "but I really don't think we going to see anyone podium here and win a Tour de France."
Team Sky's sports director, Nicolas Portal explained that Froome will not race between the Giro and the Tour. Instead, he will recover and begin training with an altitude camp ahead of the Tour start on July 7 in the Vendée.
"You have to be concentrated in the Giro," Portal added. "And whatever happens here will be good training and a hard race to improve and to get better for the Tour."
However while White is sceptical about Froome's chances, other rival sports directors think that the 33-year-old's experience could count in his favour.
"Today, cycling is calculated, programmed and studied at the desk, but an experienced cyclist can do both of them to win," Max Sciandri, BMC Racing sports director said.
"It depends on the rider, the result he had in the Giro. If he went to win and failed, or if he won, or podiumed then you have the morale to go and do it. Nairo Quintana tried last year, but he probably doesn't' have that level of experience as Froome or Nibali."
>>> Check out Simon Yates's Giro d'Italia Scott RC Addict
Giuseppe Martinelli, who is now the Astana team manager, directed the Mercatone Uno team that Marco Pantani rode for when he became the last rider to win the Giro/Tour double in 1998.
"The Giro takes so much energy, in today's age it's almost impossible. I think if anyone, Chris Froome can do it," Martinelli said.
"The Giro is particular, you have to go all out and it's unpredictable. You always have to race with the idea of what's going to happen and thinking about the unthinkable. Look at Steven Kruijswijk two years ago or Yates now.
"Moreover, you are racing against rivals who prepared specifically for the Tour while you were in the Giro. You can't have that same condition that they have. It's not the two peaks, but how high the peak is for your rival in the Tour. It won't be the same as yours.
"Froome, if he goes to the Tour, he'll be one of the favourites, but it's not like before."
Thank you for reading 20 articles this month* Join now for unlimited access
Enjoy your first month for just £1 / $1 / €1
*Read 5 free articles per month without a subscription
Join now for unlimited access
Try first month for just £1 / $1 / €1