Cannondale-Drapac looks set to continue into 2018
The American team had looked to crowdfunding for financial support but a mystery sponsor has allowed the team to survive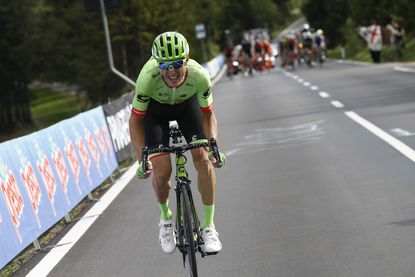 (Image credit: Yuzuru SUNADA)
American team Cannondale-Drapac looks set to race into 2018 after a the team had to turn to crowdfunding to try and secure their future.
The news comes after the team's riders being told that their contracts will be honoured next year, coinciding with a tweet from team manager, Jonathan Vaughters, describing it as "one of the happiest moments of my life!"
"As of right now, I am informing you that if you have a contract with Slipstream Sports for 2018, we are enforcing your contract. More to come," Vaughters said in a team email leaked to Velonews.
Sports director Ken Vamarcke also confirmed to Cycling Weekly at the Tour of Britain that team members had received a message on Thursday saying that rider contracts would be enforced for 2018.
"We got a message yesterday that the team would continue but not much more than that I think the announcement will be today (Friday)," Vanmarcke said. "No idea at all on who the sponsor is."
"I'm happy that the money is there and the team continues."
While the crowdfunding target was to raise $2m, the team's hope is to reach $7m in funding for next season.
It's not certain who the latest backers could be after the team raised $530,130 on IndieGoGo as of September 8 with Farley Group, an insurance broker, willing to match all donations up to $2m.
Problems started for the American team when a potential sponsor, which CW understands was betting firm Unibet, pulled its planned backing of the team forcing Vaughters not only look elsewhere but release riders from any contractual obligations.
While some riders like Rigoberto Uran, who finished second at the Tour de France this year, pledged to give the team time to resolve the issue others like Sep Vanmarcke said they would begin to look elsewhere.
Ken Vanmarcke also confirmed that as far as he knew, his brother Sep would stay with the American team should further funding be confirmed.
With just five days left in their crowdfunding campaign and riders verging on leaving, the news of a new backer has come at just the right time.
Thank you for reading 20 articles this month* Join now for unlimited access
Enjoy your first month for just £1 / $1 / €1
*Read 5 free articles per month without a subscription
Join now for unlimited access
Try first month for just £1 / $1 / €1