Chris Froome still 'in the dark' over Wiggins/Sky TUE controversy
The three-time Tour de France champion says the issue raises a few a questions, but knows no more information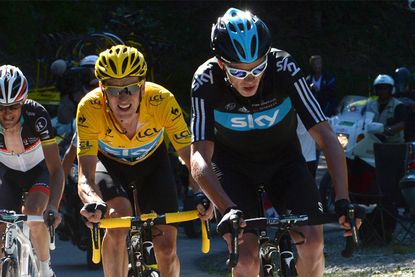 Team Sky's leader Chris Froome remains "in the dark" regarding the controversy that surrounds his team and its former leader Bradley Wiggins.
Froome is training in Australia for the upcoming 2017 season, but spoke to The Times regarding the Therapeutic Use Exemption (TUE) scandal and the fallout afterwards.
"People ask me, 'do I think it's tarnished his (Wiggins) image?' I certainly think it's raised a few questions, that's for sure," Froome said.
"A lot of people have said it's taken the shine off his performances back in 2012."
Leaked TUE records showed Wiggins injected corticosteroid triamcinolone ahead of the Grand Tours, including the 2012 Tour de France that he won.
Others have raised questions over a medical package that was delivered at the last minute to the 2011 Critérium du Dauphiné and the comments made by Sky's outcast Jonathan Tiernan-Locke that the national team used Tramadol.
UK Anti-Doping launched an investigation and parliament's culture media and sport select committee will hear Sky boss David Brailsford on December 19.
"I am completely in the dark on that," Froome said. "I have asked the question. Hopefully we will find out at the end of the investigation."
The UCI approved Wiggins's TUEs because he and the team complained he had asthma problems. Some question whether Sky was operating in a grey area by using the steroid known for its weight-loss and performance benefits.
"Those are questions for Brad to answer about what happened back then. In terms of who did what at the time, I still don't know all the answers myself," Froome said."
"I can only deal with what I do know. From what I have seen for myself [at Sky], it's been completely above board. It's been clean. I've laid all my cards on the table. Everything has been out there for a while in terms of my TUEs."
Froome's TUE data came out at the same time when hacker group Fancy Bears released Wiggins's. It showed what he had already said before in interviews, that he twice had a TUE to use an inhaler.
He said in the interview that he backs the team and its efforts to race cleanly and to operate transparently.
"We have worked really hard to try to show we are being as transparent as possible. I feel we have made a lot of headway this year, especially on the roads of the Tour," he added.
"I felt a genuine change in mentality of the French fans, a much warmer reception than it has been in the past."
Froome is training in Australia where he will begin the 2017 season with the Sun Tour and the Cadel Evans Great Ocean Road Race.
Thank you for reading 20 articles this month* Join now for unlimited access
Enjoy your first month for just £1 / $1 / €1
*Read 5 free articles per month without a subscription
Join now for unlimited access
Try first month for just £1 / $1 / €1