Fabian Cancellara crashes in the velodrome after finishing final Paris-Roubaix (video)
Fabian Cancellara signs off from Paris-Roubaix in dubious style - crashing on his lap of honour and sliding into a puddle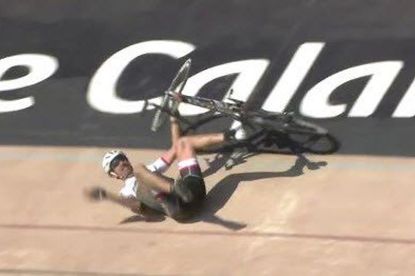 Fabian Cancellara would have wanted to say goodbye to Paris-Roubaix by crossing the line first and sealing his fourth victory. Instead he finished on his backside after taking a tumble on his lap of honour.
The Swiss saw his chances of winning destroyed by a crash on the five-star Mons-en-Pévèle sector and he rolled in over three minutes down on winner Mathew Hayman.
But as he waved goodbye to his fans in the Roubaix velodrome he grabbed a huge Swiss flag on a stick to take with him on his lap.
Team Sky's Servais Knaven talks about Ian Stannard's podium finish at Paris-Roubaix
It backfired somewhat, with Cancellara losing some grip on his back wheel, skidding and finally crashing to the track and sliding down the boards into a puddle.
To be fair to the man, he styled it out somewhat - as much as you can when you're on your backside in a puddle, anyway.
It brought to an end Cancellara's storied cobbled Classics career, in which he won three Tours of Flanders and three Paris-Roubaix titles.
Thank you for reading 20 articles this month* Join now for unlimited access
Enjoy your first month for just £1 / $1 / €1
*Read 5 free articles per month without a subscription
Join now for unlimited access
Try first month for just £1 / $1 / €1