12 pictures that show just how tough the Paris-Roubaix cobbles are
We don't need to tell you just how hard a race Paris-Roubaix is...so we thought we'd show you instead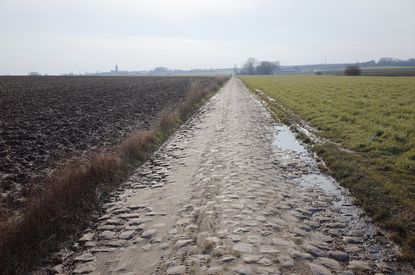 These pictures of the Paris-Roubaix cobbles, taken by Strava photographer Berntrand Trichet, show just how rough, irregular and muddy the cobbles are at this time of the year.
Riding them in fine weather is hard enough, but douse them with water and the challenge grows even more, so take a look at some of the toughest of the 27 cobbled sectors in pictures.
>>> Who holds the Paris-Roubaix Strava KOMs?
Trouée d'Arenberg
The five-star segment of Trouée d'Arenberg comes relatively early in the race, with 163km to go, but can prove decisive if not given the respect it deserves.
Trouée d'Arenberg
Not only are the cobbles rough and uneven, the sector is a 2.4km straight road through the Arenberg Forest.
Carrefour de l'Arbre
Another five-star segment, Carrefour de l'Arbre takes riders down a cobbled back street. Coming in the final 20km of the race it's the location of many winning attacks.
Carrefour de l'Arbre
The 2.1km segment is hard enough in dry conditions, but when the cobbles are underwater it becomes even more treacherous.
Mons-en-Pévèle
The third five-star sector on the course, Mons-en-Pevele, features irregular cobbles and train tracks right across the middle.
Mons-en-Pévèle
The sector is pretty rough, with the safest place to be on the crest of the road...and even then doesn't look particularly pleasant.
Auchy-lez-Orchies - Bersée
When there's a sign saying the road is in a poor state, you know it's going to be hard work.
Camphin-en-Pévèle
The renovators of the four-star Camphin-en-Pévèle will have to get the lawnmower out to get rid of the grass growing on the crest of the road.
Cysoing-Bourghelles
Rough cobbles, a bend in the road and a huge pile of manure at the side of the sector - Cysoing-Bourghelles has everything.
Haveluy
At 2.5km, Haveluy is one of the longest of the 27 sectors, and with one side susceptible to puddles, riding in the gutter may not be possible.
Hornaing - Wandignies-Hamage
In the Hornaing - Wandignies-Hamage sector, the gutter looks less appealing than the road itself.
Hornaing - Wandignies-Hamage
Much of the sector looks okay, but those not able to get a place on the crest of the road, the gaps between the cobbles grows and the chance of puncturing increases.
Thank you for reading 20 articles this month* Join now for unlimited access
Enjoy your first month for just £1 / $1 / €1
*Read 5 free articles per month without a subscription
Join now for unlimited access
Try first month for just £1 / $1 / €1