Fabian Cancellara: 'Once you're no longer a sportsman, the kilos come very quickly'
Spartacus says he's already feeling the weight of retirement just a few weeks after finishing his final race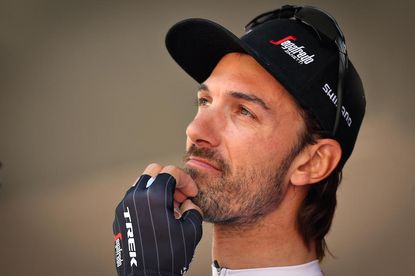 (Image credit: Yuzuru SUNADA)
Fabian Cancellara, who retired after winning the Olympic time trial three months a go in Rio de Janeiro, admits that he is "getting fatter."
The 35-year-old Swiss time triallist and Classics star pulled the plug on his career after riding to a gold medal ahead of Dutchman Tom Dumoulin and Brit Chris Froome. Since, he has been busy: a farewell ride in Japan and a book launch on Thursday in Antwerp.
>>> Fabian Cancellara's top 11 time trial tips
Tomorrow on the Ghent Kuipke velodrome, he will race Bradley Wiggins and others in an exhibition race. But Cancellara says he is already starting to feel the weight of retirement.
"I've already added more than five or six kilos since the Games in Rio," Cancellara told Het Nieuwsblad.
"It is scary when you feel that you're getting fatter. I would like to still be a bit fit. Not that I should be as sharp as Sven Nys, but I have to keep an eye on it anyway. Once you're no longer a sportsman, the kilos come very quickly."
As a sportsman, 'Spartacus' blasted his way to several big one-day wins: Milan-San Remo, and Tour of Flanders and Paris-Roubaix three-times each. In the 2010 Paris-Roubaix, he rode solo for the last 48 kilometres.
That strength came from years dominating time trials. Besides Rio, he won gold in the 2008 Beijing Games, and four times the World Championship title.
"Since Rio, I have been busy with 1001 things. Sponsorship activities, bike shows, galas... It does not stop," he said. "I take things on as they come to me. I suspect I'll be less busy in a few weeks and then I can really make plans.
"I can already rely on my experience as a rider, but I still want to study a few subjects. Sports marketing fascinates me, I want to learn more about it. First of all, of course, I want to spend more time with my family, my friends."
Cancellara has said that he is going to have to change his rhythm. Unlike Alberto Contador, who went back and forth on retirement, he said that his decision is definitive.
Thank you for reading 20 articles this month* Join now for unlimited access
Enjoy your first month for just £1 / $1 / €1
*Read 5 free articles per month without a subscription
Join now for unlimited access
Try first month for just £1 / $1 / €1