Former world champion Pauline Ferrand-Prévot reveals blood pressure problem in leg
The Frenchwoman says the problem is the reason for a her lack of form over the last several years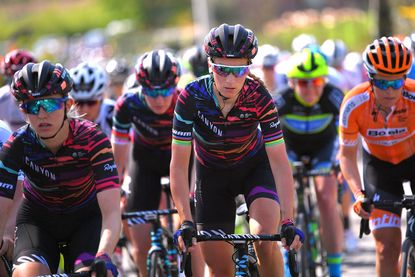 (Image credit: Getty Images)
Former road and cyclocross world champion, Pauline Ferrand-Prévot has revealed that she discovered a blood pressure problem in her leg is causing her problems.
The 26-year-old has not raced on the road since a DNF in Le Course in July and on the trails with a second place in the European Championships in August. She had been unstoppable – winning the road world title in 2014 and the cyclocross world title in 2015 – but suffered in recent years.
"After several days of training in South Africa, I had big pain on the bike, but also for the first time, during the night," she wrote on Facebook of the problem in her left leg.
>>> Quick-Step Floors' Zdenek Stybar makes cyclocross return during off-season
"I was super scared, and then I asked my coach to take an appointment for exams. I had an echocardiogram that was normal. But then in another exam, the doctors saw that I had a blood pressure problem.
"They don't know why at the moment, but I have a meeting December 12 at one of the best specialists."
The issue sidelines her in the current cross season, but ends four years of wondering about her problems. Since 2015, she has not won any major professional event even if able to compete in the smaller national events.
"For four years now I have an inexplicable pain in my left leg. When I have to make an effort to more than 70 per cent of my max, I have like a feeling of 'dead leg.'"
She has been visiting doctors for the last four years searching the reason to her problem.
"I was starting to get sick because I didn't understand why I had this pain, why I had very little strength, why I couldn't finish my workouts and too often, the races," she wrote.
"When I arrived on the races with very little workload I was getting away with it, but it was the worst when I arrived on the world cups with more fatigue and or at the Tour's Le Course, where I couldn't even pedal at 200 watts."
For now, she said she is "sad" not to be racing but "excited" about the doctors evaluation this coming December 12.
Thank you for reading 20 articles this month* Join now for unlimited access
Enjoy your first month for just £1 / $1 / €1
*Read 5 free articles per month without a subscription
Join now for unlimited access
Try first month for just £1 / $1 / €1