Gallery: Action from the London Six Day 2018
A selection of photos from action at the 2018 London Six Day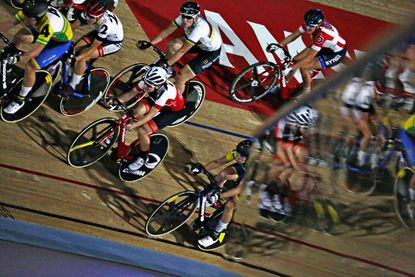 (Image credit: Sam Holden)
All photos by Sam Holden, www.samholdenagency.com (opens in new tab)
Women's Omnium
The women's peloton takes a curve
Amy Pauwels
Amy Pauwels of Australia under the lights at the Lee Valley Velodrome
Sling
The Danish team make a change during the Madison chase
Hard fought racing
The women's race began on Friday night with three days of racing alongside the men
Sprint battle
The sprinters battled it out at the Six Day between the endurance riders' events
Fred Wright
Fred Wright waits for the next race at the Lee Valley Velodrome
Kisten Wild
World champion Kirsten Wild rides in the bunch
François Pervis
François Pervis was one of the big name sprinters to feature in London
Behind the derny
Kelland O'Brien rides in the derny race
Derny draw
London's Fred Wright selects his derny pacer
Yoeri Havik
Yoeri Havik is introduced to the crowd. He and his fellow Dutchman Wim Stroetinga eventually won the overall.
Time for a chat
Shane Archbold and Roger Kluge in discussion during the London Six Day
Robert Förstemann
Robert Förstemann in action at the 2018 London Six Day.
Belgian change
Belgians Jules Hesters and Otto Vergaerde change at the back of the pack.
Wild attacks
Kirsten Wild attacks during the points race at the London Six Day.
Keirin
The sprinters rush for the line at the end of the Keirin race
British pair
British duo Andy Tennant and Chris Latham during the Madison chase
Bradley Wiggins
Former Madison world champion five-time Olympic gold medallist Bradley Wiggins is interviewed at track side.
Bommel and Thiele
German pair Henning Bommel and Kersten Thiele head to the track
Champions change
Madison world champions Roger Kluge and Theo Reinhardt change during the final chase
Nate Koch
Retired sprinter Nate Koch was in attendance at the Six Day.
Mega-quads
Robert Förstemann shows off his giant quads in action at the Lee Valley Velodrome.
Archbold and Gate
New Zealand paid Shane Archbold and Aaron Gate in action.
Sling into action
Andreas Müller accelerates away after a change with Austrian team-mate Andreas Graf.
Thank you for reading 5 articles this month* Join now for unlimited access
Enjoy your first month for just £1 / $1 / €1
*Read 5 free articles per month without a subscription
Join now for unlimited access
Try first month for just £1 / $1 / €1