Gary Verity insists Tour de Yorkshire stage two was still a success
Technical problems twice grounded a plane, meaning both the women's Tour de Yorkshire and stage two of the men's race were run off with minimal TV coverage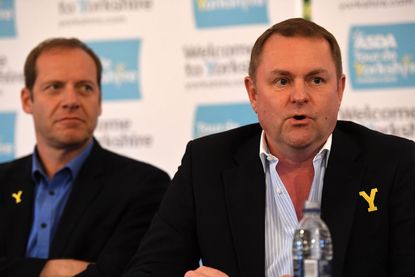 (Image credit: Andy Jones)
Tens of thousands of people were out watching the Tour de Yorkshire today. Both the men's and women's races were cheered on, despite inclement weather, by crowds that appeared to outnumber those of the Grand Départ two years ago.
Today is a success story, said Sir Gary Verity. "We saw these crowds in towns all along the route. Tens of thousands of people. Just remarkable, I don't know where they come from. The weather wasn't particularly brilliant, but we still got these enormous crowds."
Unfortunately we only have their word for that as everyone else was left guessing as to what was happening in the big money women's race that started early on Saturday morning in Otley.
Watch: Highlights from Tour de Yorkshire stage two
The issue was one of safety as the fixed-wing aeroplane that relays footage from the motorbikes back to the editing suites at the finish line was twice grounded during the day.
"It's the same plane that does the Tour de France, the company does around 30 bike races a year so they know what they're doing," Verity said afterwards.
The plane belongs to Pixair Survey, a Rouen based aviation company specialising in broadcasting, surveillance and mapping.
Having circled above Otley for almost an hour before the women's race started a problem was soon apparent and the pilot flew to Leeds Bradford airport where four mechanics worked on it. Another plane flew in from France to deliver a new part, and a specialist mechanic, and they eventually got it up and running.
Sadly this was too late for the women's race which lost it's live feed before the peloton had left the neutralised zone. ITV immediately cut their coverage, switching to angling, leaving many to vent their anger on Twitter.
Footage returned with two kilometres to go but only from the race helicopter that could send pictures straight to the finish where Kirsten Wild picked up the biggest winners cheque of her career.
Watch: Highlights from women's Tour de Yorkshire
The plane was back in the sky for the men's race, but not for long. A second problem grounded it once again, and once again ITV had to go without footage. On twitter, Verity was frantically re-tweeting every image and video clip posted by spectators from the side of the road, while voice of Radio Tour, Seb Piquet, did a fine job with pithy updates from the commissaire's car.
After the men's race had finished with Sky's Danny Van Poppel winning the sprint in Doncaster, again with footage returning thanks to the helicopter camera, race director Christian Prudhomme said this was the first time he can remember such a happening.
As for Sunday's final stage from Middlesbrough to Scarborough: "There will be an operational plane. It's been fixed and it's up in the sky now, being tested," said Verity. "If it's still up in the sky, it must be working."
Thank you for reading 5 articles this month* Join now for unlimited access
Enjoy your first month for just £1 / $1 / €1
*Read 5 free articles per month without a subscription
Join now for unlimited access
Try first month for just £1 / $1 / €1