Technical issues leave TV viewers in the dark for Saturday's Tour de Yorkshire races
Tried tuning in for the final kilometres? Well there's an episode of Minder and live ATP Tennis instead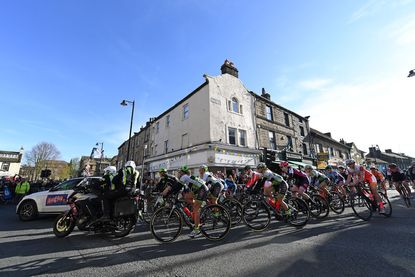 (Image credit: Andy Jones)
Cycling fans were left rightly frustrated on Saturday, as they missed the whole Women's Tour de Yorkshire and almost the entirety of the men's race.
Problems with the plane, which transmits images of the race to an outside broadcasting truck at the finish, meant that it had to be landed during the women's race, with the issues unresolved before the men's race got under way.
It meant that no-one saw Kirsten Wild's sprint victory into Doncaster, nor Lizzie Armitstead's attack earlier in the day as she realised after the race.
"Technical problems with the French TV coverage of the Tour de Yorkshire has meant that the Women's race is no longer being shown on ITV4," was the message from ITV.
But what's more, those issues also reportedly mean that there are no highlights of the race, except for those that can be pieced together from the finish.
A back-up plane in France was despatched as quickly as possible, and managed to get over despite striking air traffic control workers.
Live pictures did eventually begin on both ITV and Eurosport for the men's race, although that didn't seem to last long, as anyone tuning in for the final 10km would have found an episode of Minder or live ATP tennis in it's place.
There were some helicopter shots and some images from the finish on Eurosport Player, showing Danny Van Poppel's (Team Sky) victory, but it's not been a great day for organisers ASO.
It's an unusual incident for the French race organisers, who almost faultlessly broadcast Paris-Roubaix in it's entirety a few weeks ago, but it'll be difficult to appease some fans who would have hoping to catch the action from not only the increasingly popular men's race, but the new flagship women's race which was given so much build-up.
Thank you for reading 20 articles this month* Join now for unlimited access
Enjoy your first month for just £1 / $1 / €1
*Read 5 free articles per month without a subscription
Join now for unlimited access
Try first month for just £1 / $1 / €1