GB track sprinter sees rear wheel disintegrate on flying lap (video)
Matt Crampton starts his 200m flying lap and is then sent crashing to the pine when his back disc wheel falls apart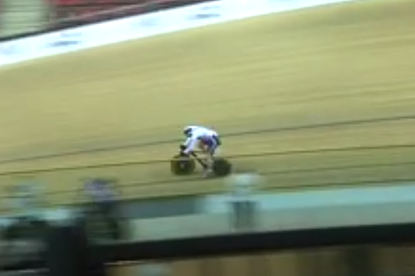 In track sprinting, the margins between success and failure are incredibly fine. This appears to be the case with the equipment the riders use, with Matt Crampton's rear wheel failing at high speed.
In a meeting at the Saint-Quentin-en-Yvelines velodrome in Paris, Crampton had just started his 200m flying lap when he felt his rear disc wheel fail.
>>> British Cycling is looking to discover next generation of track sprinters, do you fit the bill?
While it initially caused him to skid, the speed he was going made it impossible to stop safely, with the carbon fibre wheel separating from the rim, sending Crampton crashing to the pine.
He seemed to get back up okay and tweeted that he just needed to ice his scrapes. French newspaper La Gazzette des Sports tweeted some pretty remarkable pictures of just how much the carbon Mavics were destroyed.
>>> This track sprinter has 30,000 Facebook fans, but doesn't actually exist (video)
While this kind of thing seems to be pretty rare, Crampton and the rest of the Great Britain Cycling Team will be hoping the same won't happen at the Rio Olympics Games in August.
Thank you for reading 20 articles this month* Join now for unlimited access
Enjoy your first month for just £1 / $1 / €1
*Read 5 free articles per month without a subscription
Join now for unlimited access
Try first month for just £1 / $1 / €1