This track sprinter has 30,000 Facebook fans, but doesn't actually exist (video)
Ion Göttlich is taking the track cycling world by storm and he doesn't even exist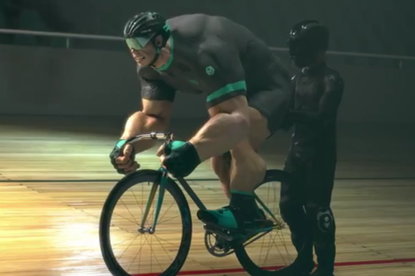 He's got more Facebook followers than Gregory Baugé, Jason Kenny and Maximilian Levy put together, but you won't be seeing Ion Göttlich at the UCI Track World Championships, despite his prowess on the bike.
The reason? Well, he's entirely fictitious. The creation of South African animator Claudio Pavan, Göttlich is a Hulk-like animation who has taken the track cycling world by storm after 'posing' for pictures with famous riders.
He's been snapped with Kristina Vogel, the German trio of Max Niederlag, René Enders and Joachim Eilers and even got a kiss of Caro Ferrer out on a training ride.
Of course, he's not actually with these people, but everyone wants to be seen with him. His creator, Pavan, said he couldn't believe how quickly Göttlich rose to fame.
He told Bicycling: "It took me about six weeks to get him created the way I want; late one night, I posted a video of him on the rollers and went to bed.
"The next morning, it had gone viral with 1.3 million views and my Facebook mail was full of messages. So I decided to try keep him going as if he was a real person with a real life."
And how does Göttlich become so awesome? It might be something to do with the 8,000 squats he does each day, or the fact that he can inflate his tyres to 125psi just using his mouth.
Eat your heart out Robert Forstermann!
Thank you for reading 20 articles this month* Join now for unlimited access
Enjoy your first month for just £1 / $1 / €1
*Read 5 free articles per month without a subscription
Join now for unlimited access
Try first month for just £1 / $1 / €1