Giro d'Italia organiser denies paying riders to participate in races
RCS Sport insists it does not pay or contact riders to get them to ride its races, while defending its partnership with Velon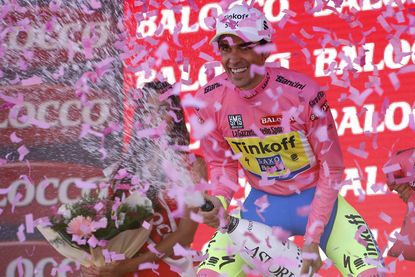 (Image credit: Watson)
RCS Sport has denied that it contacts or pays riders in order for them to ride in the races it organises, including the Giro d'Italia.
The company also defended its association with Velon throughout the Giro, with on-bike cameras featuring on several stages during the race.
In a press release issued on Wednesday, RCS bosses Paolo Bellino and Mauro Vegni talked about the need to create a more stable sport if the UCI's planned reforms are going to come to fruition.
"RCS Sport categorically denies any form of payment or direct contact with the riders in order to have them participate in competitions it organises," the statement read.
"Regarding relations with Velon during the last Giro d'Italia, RCS Sport had a contract in place but this was only for the production of films for broadcasting on digital and TV.
"It was exclusively for the 2015 edition of the Corsa Rosa. The aim of the collaboration was to improve the quality of the narrative of the race, with no other purposes."
https://www.youtube.com/watch?v=9v8_5yblsjc
RCS's counterpart ASO has threatened to withdraw its races from the UCI calendar over issues with the governing body's Reform Project.
RCS, however, says it does not oppose the project, but believes the project will not be able to proceed fully until stability is found.
The statement went on: "On the subject of promotion and relegation of teams RCS Sport supports, in principle, the concept. However RCS Sport believes this cannot be implemented until there is more stability within the sport."
Adding: "The ultimate goal of RCS Sport is solely to grow the movement of cycling worldwide ensuring stability in the medium and long term, thus increasing the value of their assets.
"RCS Sport is convinced that technological innovation is a fundamental step in achieving this goal and requires a greater involvement of the professional teams too."
BMC Racing show Cycling Weekly inside their tool shed
Thank you for reading 20 articles this month* Join now for unlimited access
Enjoy your first month for just £1 / $1 / €1
*Read 5 free articles per month without a subscription
Join now for unlimited access
Try first month for just £1 / $1 / €1