Michael Rogers enlisted to support Nicolas Roche in Giro title assault
"I had to work my way over that psychological barrier where I was almost convinced that April was never going to be my month." - Nicolas Roche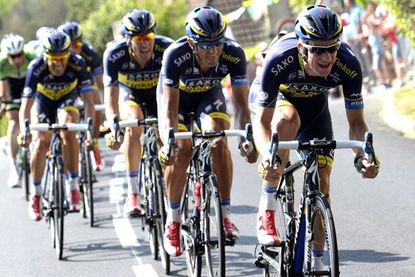 Australian Michael Rogers will start the Giro d'Italia today in what is his second race of the year after the UCI last month overturned a provisional doping suspension.
Rogers was suspended from competition when he returned a positive clenbuterol sample from October's Japan Cup but was cleared in time to compete at Liege-Bastogne-Liege in April.
The 34-year-old will commence his 11th Grand Tour in support of Tinkoff-Saxo leaders Rafal Majka and Irishman Nicolas Roche in Belfast this evening. Rogers has competed at the Giro, which begins with a 21.7km team time trial, twice before in 2006 and 2009.
His value as a road captain is renowned and may be more prevalent throughout the race given Tinkoff-Saxo has three riders, including Rogers's compatriot Jay McCarthy, marking Grand Tour debuts.
The 21-year-old McCarthy was notified of his start late Monday night and yesterday expressed gratitude in having an experienced teammate and compatriot in Rogers to call on in his bid to support Roche and Majka all the way to Trieste.
"It's been great having Mick in the team again," McCarthy said. "I've stayed pretty close with him so having him in the team last year he's a great guy to look up to for advice. I'm so happy that everything worked out for him and he's able to come back here and race.
"I guess I could call that my secret weapon, if I'm going to get through the tour, having Mick there. He'll tell me to take the gruppetto when I have to and not push myself too much. Of course it's great to have another Aussie in the team as well."
Irishman Roche was overcome by the home reception received at yesterday's team presentation in Northern Ireland that will host the first two stages of the race.
"Going there on the podium and having that super warm welcome made me realise how important the whole event was," Roche said.
The 29-year-old traditionally performs better at the Tour de France than the Giro however has worked extensively on his approach to the 97th edition of the latter race with overall ambitions in mind.
"I've prepared as well as I could prepare for a race so early," Roche said. "Everybody knows I've never shown much strength in this time of year. I've always planned ahead and all I had in mind was coming up in good shape from Tour de Suisse to the Tour to the Vuelta and finishing the year in the worlds. I've been doing the same copy and paste over the last few years and for me it was completely different to try and work around my form.
"I feel that somehow in July and August my body just reacts better to training and I react so well to the heat," he continued. "I just thought, ok, you have this cycle where you have some months where you feel stronger and some time in the year where you're not as strong. I had to work my way over that psychological barrier where I was almost convinced that April was never going to be my month."
Roche was injured at the start of season so had to restructure his programme but is confident of his condition ahead of a maglia rosa assault that will importantly begin on home turf.
"I've done my best to be in the best possible condition and I hope that will be enough," he said.
The opening stages of the Giro will also be significant for Roche's teammate Chris Juul-Jensen, who races with a Danish licence though has unmistakable Irish roots.
Twitter: @SophieSmith86
Thank you for reading 10 articles this month* Join now for unlimited access
Enjoy your first month for just £1 / $1 / €1
*Read 5 free articles per month without a subscription
Join now for unlimited access
Try first month for just £1 / $1 / €1
Sophie Smith is an Australian journalist, broadcaster and author of Pain & Privilege: Inside Le Tour. She follows the WorldTour circuit, working for British, Australian and US press, and has covered 10 Tours de France.