Michael Rogers free to return to competition after UCI lifts provisional suspension
UCI warns teams and athletes to avoid eating meat in countries where clenbuterol is well documented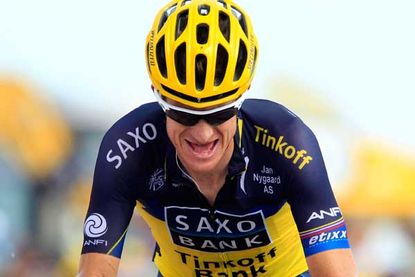 Australian Michael Rogers can return to racing with immediate effect after the UCI today lifted his provisional suspension stemming from a positive clenbuterol test at last year's Japan Cup.
The international governing body has found there was a "significant probability that the presence of clenbuterol may have resulted from the consumption of contaminated meat."
Rogers has been provisionally suspended since returning a adverse analytical urine sample from the October 20 race, which he won but has been, as a consequence, stripped of.
"In accordance with the UCI Anti-Doping Rules and the World Anti-Doping Code, Mr Rogers took the opportunity to explain to the UCI how the prohibited substance had entered his system, and to provide supporting information," the statement reads.
"Upon careful analysis of Mr Rogers's explanations and the accompanying technical reports the UCI found that there was a significant probability that the presence of clenbuterol may have resulted from the consumption of contaminated meat from China – where he had taken part in a race before travelling to Japan.
"As a result, the UCI has proceeded with the automatic disqualification of Mr Rogers's results at the 2013 Japan Cup (the competition during which the positive sample was taken) but, after consulting WADA, decided that he should not be sanctioned any further."
The 34-year-old Rogers (Tinkoff-Saxo) in a personal statement reaffirmed his defence and expressed relief.
"The UCI acknowledged that the presence of clenbuterol in my sample collected during the 2013 Japan Cup was due – as I always stated – to the consumption of contaminated meat during my stay in China for the Tour of Beijing," Rogers said.
"The UCI, in particular, confirmed the absence of any fault or negligence on my part. Notwithstanding the above, and because the substance was found in my sample during the competition, my result obtained during the 2013 Japan Cup must be automatically disqualified in accordance with the UCI rules. Although this is unfortunate for me, the UCI is bound by its rules and must apply them consistently.
"Over the past four months, my family and I have endured a very difficult time. The UCI's decision means I can return to racing immediately, and I am looking forward to getting back to work, competing in the sport I love."
The UCI in the same statement has recommended athletes and teams avoid eating meat in countries where clenbuterol contamination is well documented. Rogers's now Tinkoff-Saxo teammate, Alberto Contador has previously served a backdated two-year ban for a positive clenbuterol test he said came from ingesting a Spanish steak. The Spaniard was stripped of his 2010 Tour de France title and 2011 Giro d'Italia win.
"The UCI is monitoring very carefully the latest developments concerning clenbuterol, and will continue to take appropriate steps to ensure riders are properly informed," it reads.
"However, the UCI reiterates that the presence of clenbuterol in a urine sample constitutes an anti-doping rule violation under the World Anti-Doping Code and the UCI Anti-Doping Rules.
"It is generally acknowledged that in certain countries a risk of meat contaminated by clenbuterol can exist and produce, in specific conditions, a positive sample from an athlete. WADA has issued specific warnings about this problem in China and Mexico. Consequently, the UCI reiterates its recommendations to the athletes and teams concerned to avoid eating meat in these countries.
"In line with WADA recommendations, the UCI will continue to assess the presence of clenbuterol on a case-by-case basis taking into account the country in which contamination may have taken place, as well as any scientific evidence supporting the likelihood of such contamination."
Australian Michael Rogers issues statement in response to suspension for clenbuterol positive test
WADA-accredited laboratory in Tokyo finds '"adverse analytical finding" in Australian's urine sample
Michael Rogers' contract ends with Sky as the Australian joins Danish outfit Saxo-Tinkoff for 2013
Thank you for reading 10 articles this month* Join now for unlimited access
Enjoy your first month for just £1 / $1 / €1
*Read 5 free articles per month without a subscription
Join now for unlimited access
Try first month for just £1 / $1 / €1
Sophie Smith is an Australian journalist, broadcaster and author of Pain & Privilege: Inside Le Tour. She follows the WorldTour circuit, working for British, Australian and US press, and has covered 10 Tours de France.