Michael Rogers: I have never knowingly taken clenbuterol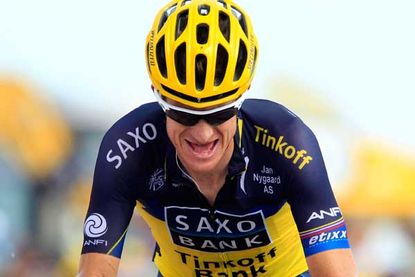 Michael Rogers has issued a statement in response to his provisional suspension for testing positive to banned drug clenbuterol at the Japan Cup in October, saying "I have never knowingly or deliberately ingested clenbuterol".
The Union Cycliste Internationale (UCI) released a statement on Wednesday saying that the Australian Saxo-Tinkoff had returned an 'adverse analytical finding' from a urine sample taken at the Japan Cup on October 20.
Rogers is claiming that he must have eaten contaminated meat whilst attending the Tour of Beijing in the week before arriving in Japan. Clenbuterol contamination in meat in China is a recognised issue, and the World Anti-Doping Agency (WADA) has previously advised athletes to avoid eating meat in the country (see below).
"I would like to make it very clear, in the strongest terms possible, that I have never knowingly or deliberately ingested clenbuterol," wrote Rogers.
"I can advise that during the period 8th - 17th of October, before arriving in Japan, I was present in China for the WorldTour race, Tour of Beijing. I understand that it has been acknowledged by the WADA as well as other anti-doping bodies, that food contaminated with clenbuterol is a serious problem in China."
"In the following weeks, I will have the opportuity to explain this unfortunate situation to the UCI, in which I will give my full attention and cooperation to resolve this issue in the quickest time frame possible."
Rogers has the right to request that his B sample be tested, and be present at the analysis.
Clenbuterol: WADA's warning
WADA issued a statement on clenbuterol meat contamination in November 2011, saying: "Due to continuing concerns over contaminated meat in certain parts of the world, WADA has re-emphasized the need for athletes to exercise extreme caution with regards to eating meat when traveling to competitions in China and Mexico.
"It has been shown that Mexico and China have a serious problem with meat contaminated with the prohibited substance clenbuterol, and WADA's message to athletes competing in these countries remains the same: eat only in restaurants and cafeterias that have been approved by your federation and/or event organizer."
Alberto Contador famously argued that his positive test for clenbuterol at the 2010 Tour de France must have arisen from ingesting a contaminated steak brought to France by a friend from Spain. A protracted legal case ensued and he was eventually banned for two years after a hearing at the Court of Arbitration for Sport (CAS).
CAS concluded that Contador's positive for clenbuterol was more "likely to have been caused by the ingestion of contaminated food supplement than by a blood transfusion or the ingestion of contaminated meat" and that there was no evidence that Contador "acted with no fault or negligence".
Chinese rider Li Fuyu was sacked by the RadioShack team in 2010 after testing positive for clenbuterol at Dwaars Door Vlaanderen that year, and was suspended from competition.
Related links
Michael Rogers tests positive for clenbuterol
Thank you for reading 5 articles this month* Join now for unlimited access
Enjoy your first month for just £1 / $1 / €1
*Read 5 free articles per month without a subscription
Join now for unlimited access
Try first month for just £1 / $1 / €1