Porte the underdog promises to fight back
Richie Porte remains calm and confident despite being docked two minutes for letting his mate Simon Clarke give him a wheel.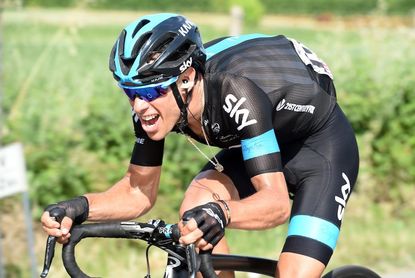 (Image credit: Watson)
Richie Porte stepped out of Team Sky's bus this morning with a wide grin on his face. If he was still angry from yesterday's time losses, and what that did to his overal chances, he did a good job of hiding it from the awaiting press.
Losing 47 seconds after an untimely puncture and then being docked two minutes for accepting technical assistance from another team has all but ended Porte's chances of winning this Giro, but you wouldn't know it from his mood this morning in Forli.
"I'm in good condition, but we just have to see what happens after the time trial, and in the mountains," Porte said in cramped quarters around the bus.
"It's a three-week race, we have 10 days to go, I feel good. The team's so fired up now by all of this, to be honest. The whole peloton, the support they've given me, the other teams, I think the cycling family is alive and well."
Following a puncture at around 7km to go, Porte took a front wheel from fellow countryman Simon Clarke (Orica-GreenEdge) before being paced to the finish line by his Sky team mates.
One of the race jury members saw the incident and soon after the race pictures emerged of Porte getting assistance from a member of another team. Porte himself put a picture on Twitter.
Twitter reacts to Team Sky leader being given two minute time penalty after swapping wheels with Orica-GreenEdge rider Simon Clarke
After a raft of Tweets promoting the sportsmanship and camaraderie that exist in the peloton – including from the Giro's official Twitter feed - The four-person panel promptly penalized Porte and his saviour Simon Clarke under rule 12.1.040 / 8.2. "Non regulation assistance to a rider of another team." Because it was the first offence, both riders were fined two minutes.
"I didn't know. I don't think anyone really knew about the rule," Porte said.
"Simon's a good mate of mine, he was there, so that's what happened. I took the wheel, and I've paid the price."
"There's nothing we can do now to change the situation. I commend my good mates, Simon Clarke and Michael Matthews for helping out, that was a great picture of cycling, but the jury see it differently," Porte said.
"It wasn't an ideal time to get a puncture. I was lucky not to crash, to be honest. It was a fast roundabout, I had to stop on the left, which you are not meant to do, but when you don't have control of your bike there's not much you can do. The sun still came up today, so [we'll] keep fighting."
Of the three overall challengers Porte is expected to be the best placed in this Saturday's 59.2km time trial. He will now have to make up even more time than he had originally expected.
Fabio Aru (Astana) is the weakest against the clock of the three leaders. The Italian lost almost two minutes to Porte in just 9.6km at Paris-Nice this March, and that was a mountain time trial that should favour Aru. Astana's leader has never performed well against the clock on a flat parcours.
Current leader Alberto Contador is likely to lose less time to Porte. The Spaniard no longer posses the prowess against the clock he showed before his two-year ban, and is carrying a shoulder injury, but the last time Contador and Porte raced head to head in a time trial it was the Spaniard who came out on top. At the 2014 Criterium du Dauphine, Contador beat Porte by 11 seconds over 10.4km.
Porte's advantage now is that he has nothing to lose. "I'm sort of an underdog now, coming from behind, it feels a little bit easier in some ways, but it hurts to be docked time like that."
Thank you for reading 20 articles this month* Join now for unlimited access
Enjoy your first month for just £1 / $1 / €1
*Read 5 free articles per month without a subscription
Join now for unlimited access
Try first month for just £1 / $1 / €1